Mark Zuckerberg Might Cover His Computer Camera With a Piece of Tape
Paranoia, or playing it safe?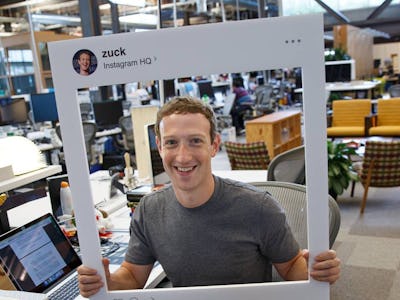 Mark Zuckerberg/Facebook
Someone in the shared Facebook and Instagram office is actively preventing being spied on with a taped up computer. Which is a good idea, of course.
Mark Zuckerberg celebrated Instagram reaching the 500 million user mark today with a cheeky photo of his smiling mug in a giant white Instagram cutout. If you only checked out Zuckerberg himself, you probably noticed he is a fan of the cliche Instagram Halloween costume. If you checked out the background, however, you might have noticed that Zuckerberg is sitting by a Macbook that has both the camera and the mic jack covered with tape.
Just because Zuckerberg is sitting by the Macbook doesn't mean it's his, but it's safe to assume that it's owned by someone in Facebook's Menlo Park, California headquarters where the photo was taken.
That someone is familiar with a fact that both enthusiasts of civil liberty and paranoid privacy advocates are well aware of: Hackers and the NSA can turn on your laptops camera or microphone remotely.
Tape is the easiest way to beat would-be spies to the punch:
If you look closely, you can also see that the computer owner uses Mozilla's encryption-protected Thunderbird for email.
You can call a person paranoid, but there's no harm in a little extra protection from unwanted data collection. And Zuckerberg should know about data collection and being watched. Facebook has accurately mapped where everyone lives with A.I. mapping, and targeted ads on the social media site seem to know your thoughts before you know your thoughts.
As for being watched — Zuckerberg's Twitter and Pinterest accounts were hacked earlier this month.
As Gizmodo notes, the desk is in the same location as where Zuckerberg held a Facebook Live meeting nine months ago, but Inverse has reached out to Facebook to confirm whether or not the computer is indeed Zuckerberg's and will update with new information.
While we're on the subject, we suggest you also cover your iPhone camera.