Let's Get Batman and Wonder Woman on TV
What's stopping DC, really?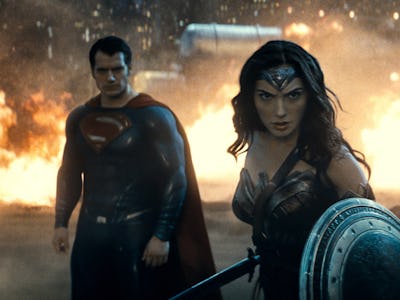 Warner Bros.
Shooting is underway for Justice League, the blockbuster team-up directed by Zack Snyder, and DC's television universe also continues to evolve. Since 2012, the CW has housed a full locker-room's worth of spandex, beginning with Arrow, featuring the Robin Hood analog Green Arrow, before expanding with The Flash, Legends of Tomorrow, and now Supergirl, flying in from CBS for its second season.
These shows inhabit an ever-expanding continuity separate from the films, declared as much when last week Supergirl cast Tyler Hoechlin (from MTV's Teen Wolf) as Superman while Henry Cavill is still contracted for the big screen. With the Man of Steel making his return to TV, does it still make sense that Batman and Wonder Woman — the other two in DC's holy "Trinity" — remain off-limits? What's so bad about a TV-sized Justice League?
It's not like these characters have never been on TV. George Reeve, Adam West, and Lynda Carter famously played Superman, Batman, and Wonder Woman, respectively, in classic productions made on anything but blockbuster budgets, long before today's superhero-obsessed era. Pitching serialized, interconnected stories in lavish productions would get you laughed out of network meetings in the days of William Dozier, but today that kind of stuff takes over Netflix and next-day streaming on Hulu.
There's an unspoken understanding that having the same characters on TV and film at the same time dilute their marketability, but there haven't been many times where that's proved true or false. In the mid-aughts, Superman was both Tom Welling on Smallville and Brandon Routh in Bryan Singer's Superman Returns. Today, Grant Gustin is the Flash on the CW while Ezra Miller will be the same guy in Snyder's Justice League, but that's currently shaping up to be no big deal.
A handful of recent efforts to bring these three back to TV — in full form — come with asterisks. Gotham on Fox is a Batman prequel starring 15-year-old David Mazouz as an adolescent Bruce Wayne. It's unlikely Gotham will fast forward to an adult, fully-trained Batman, especially since Mazouz himself confirmed Bruce will become the Dark Knight only at the show's end. Maybe Gotham could lead in to a legit Batman series, but Bruce has to finish puberty first.
In 2011, a year before Arrow and Marvel's The Avengers seriously blew up superheroes, Adrianne Palicki starred in a failed Wonder Woman pilot for NBC. It was genuinely bad — so bad that I encourage you to watch it — but it gleefully embraced elements of the Lynda Carter series without apology. Palicki looked awkward in the costume and maybe she's not cut out to be Diana Prince, but that Palicki was later cast as Mockingbird in Marvel's Agents of S.H.I.E.L.D. and rocked it shows Wonder Woman isn't toxic for today's TV. The right elements just need to assemble. And they almost did, as recently as 2014.
While Arrow was airing its first season, the CW, DC, and Warner Bros. were working to put together Amazon starring Amy Manson as Wonder Woman/Diana Prince (She's now playing Merida in ABC's Once Upon a Time). Like the Palicki series, the show couldn't get off the ground and was scrapped. Geoff Johns hinted this incarnation of Wonder Woman could debut in a similar capacity Grant Gustin's Barry Allen did for The Flash, but this was before Gal Gadot fleshed her out for Batman v Superman.
And of course, Smallville. It was a Superman TV show, unambiguously so, but producers Alfred Gough and Miles Millar had a sacrilegious rule which, somehow, got them the greenlight: "no flights, no tights." Maybe it was the cynicism of the early 21st century, but a Superman show without the costume is unfathomable in today's merchandise and cosplay-obsessed era. Welling didn't suit up until the finale. Today, Supergirl proudly wears the costume, as will Hoechlin come this October.
We're in an era that understands superheroes more than ever. We don't need rules like "no flights, no tights" to convince us to tune in. We're not embarrassed by costumes and superpowers, superheroes are done with its angry goth phase. Even Batman, if the set visits to Justice League are to be believed. All we ask are well-defined characters played by charismatic performers (bonus points if they're hot) who can make us feel like they all give a shit about each other. There's absolutely some boring reasons why Batman won't have a full-fledged Daredevil-style series, but there have been dumber ideas.
Did you know there's a Batman show without Batman?