Facebook Wants to Work With China as Soon as It Knows What They Want
"We're excited about the role we can play with Chinese companies now," said COO Sheryl Sandberg at today's stockholder's meeting.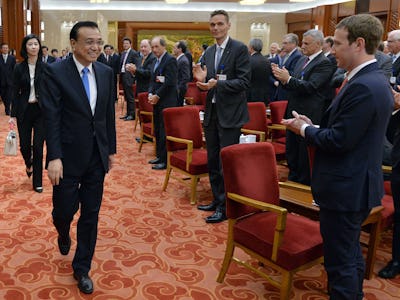 Getty Images / Pool
"Do you ever see Facebook in China someday?" While the question arose at today's stockholder meeting for the social media giant, it's far from the first time it's been asked. Despite a massive potential user base, it's understandable that the company might be facing some road blocks. China is notorious for the censorship and control of its mass media — social platforms included — and that tends to clash with many of Facebook's proclaimed principles. Couple that with the fact that Mark Zuckerberg hasn't held back on his critique of the Chinese government, and it's a bit surprising that any progress has been made at all.
COO Sheryl Sandberg mentioned that she'd just come back from China, where several of the company's top clients use its Audience Network tool as a means of advertisement. "We're learning, we're studying about the Chinese market and we'll see what happens," said Sandberg. While Facebook sells ads to companies in China, it does not have an office in the country.
Sandberg's focus remained on that particular presence in China, though, pointing toward the obvious and inevitable. It's not unexpected that Facebook's road to being operational in China is one met with several ideological bumps that challenge the moral fiber of the company. After Mark Zuckerberg's jog through Tiananmen Square, the company isn't exactly in China's good graces, either.
Regardless, Sandberg seemed to reiterate the company's interest in continuing its work despite being banned from use in China, where social networks like Tencent Weibo boast half a billion users. Sandberg took the time out later in the meeting to explain how the international user base of the platform is helping to diversify what some users call an echo chamber — though plans to include China in that remain out of the question at the moment.