Here's How Facebook Plans to Bring the Kids Back
During a stockholder meeting, Facebook's Dave Wehner explained how the platform plans to keep their dropping population of teenagers engaged.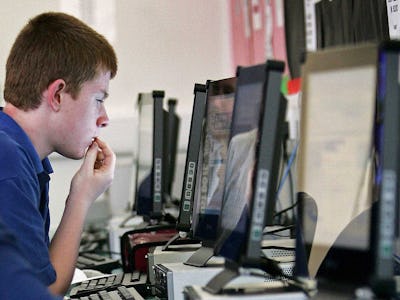 Getty Images / Peter Macdiarmid
Facebook was once an exclusive club that, for those graduating in the year 2006, became something of a rite of passage. Back then, as teenagers slowly crawled toward the age of eighteen and their freshman year of college, Facebook was another prize that signified your adulthood. That bar was done away with when the platform opened up to the general public, and over the past few years, the number of teenagers using the platform has dropped drastically.
Today during a meeting with company stockholders, Chief Financial Officer Dave Wehner touched base on what Facebook was doing about it, which turned out to be, in short: nothing. "We said this in the past: Facebook has the largest audience of global teens, teens remain very engaged on Facebook," Wehner began, before mentioning the high amount of engagement on the Facebook-owned Instagram platform, as well as the importance of messaging. Facebook's focus seems to be set of managing the broad audience, and with other problems to contend with, such as determining whether the company is politically biased or not, it seems that there's little room for dealing with teenagers.
"We've got all sorts of different forms of sharing for all sorts of different use cases, and we think that's very important to serve the broadest possible audience — for Facebook and for all of our properties," said Wehner. In truth, the company's nonchalance isn't unwarranted. Despite any reports (and there are many) that it's doing poorly among teenagers, the latest Pew Research Study on how teenagers use the internet says otherwise. Of the surveyed teens aged 13 to 17, 41 percent reported that out of all social media sites, Facebook was the site they used most frequently. Instagram followed close behind with 20 percent, followed by Snapchat, which 11 percent of the teens surveyed claimed as their favorite.
Still, the same report suggests that the tides are quickly changing: while 44 percent of teens ages 15 to 17 reported their favoritism of Facebook, only 35% of the younger group agreed. While the change may not come rapidly, it remains a factor to keep an eye on for the tech giant, especially when it comes to investing in startups that are popular among those age groups.