Antarctica Rescue Mission Flight Stops in Chile Due to Bad Weather
The planes are on their way to a medical emergency.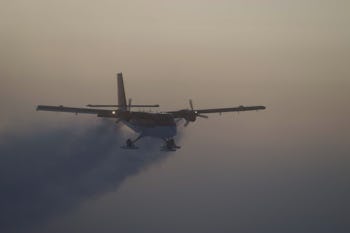 Jason Medley, NSF
Update: The plane planes have landed in Antarctica, but there's still a long way to go.
Two aircraft destined for the Amundsen-Scott South Pole Station were waylaid on Sunday, after treacherous conditions meant a rescue mission had to be put on hold. There is currently a medical emergency at the station, with a member of the winter crew needing professional care at a hospital outside the icy continent.
The National Science Foundation (NSF), which manages the base, normally would not have scheduled a flight at this time of year. It is winter in Antarctica, and travel between the months of February and October is usually not planned because of the extreme weather conditions.
The mission is using two Twin Otter aircrafts flown by Kenn Borek Air, a company with experience of such emergencies. The planes can land on skis, vital for this mission as there are no runways by the research station.
The rescue mission will take the aircrafts from their starting point in Calgary to Rothera, waiting for the right conditions before one of the planes undertakes the last 1,500 miles of the journey to the NSF station. The other plane will stay at Rothera, providing emergency assistance in case something goes wrong. Unfortunately, both planes had to stop in Chile before they could make their way to Rothera.
"The two aircraft en route to the National Science Foundation's Amundsen-Scott South Pole Station to carry out an Antarctic medical evacuation are on the ground in Punta Arenas, Chile," an NSF spokesperson told Inverse. "They are awaiting favorable weather to fly to the British Antarctic Survey Station at Rothera, where they will prepare the aircraft and await favorable weather to make the flight to the Pole."