"Don't Move the Fucking Pixels"
You know that photo of the Afghan girl? The guy who took it is in trouble.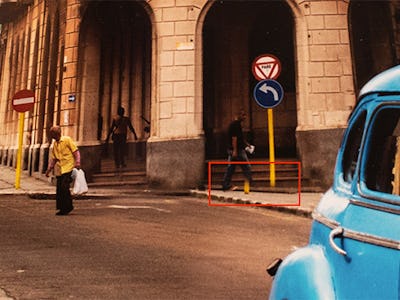 Getty Images / Ringo H.W. Chiu
Steve McCurry is one of the most famous photographers in the world. His 1985 National Geographic cover, known as "Afghan Girl" has been called a "modern Mona Lisa" and has become emblematic of the country during it's repeatedly war-torn modern history. But, recently, McCurry has become iconic for another reason: He's the new poster child for Photoshop abuse.
While many photographers use complicated digital manipulation techniques to create anything from stunning photos of the Earth to images of night skies and SpaceX rockets, photojournalism and documentary photographers generally adhere to an unwritten code.If you want to present your work as truth, the logic goes, you cannot make changes to your images.
And that's exactly what McCurry has done — for years. Last month, the popular photography blog PetaPixel published a crowd-sourced investigation into McCurry's work over the last decade or more and found numerous examples of digitally altered photos.
There's some leeway, to be fair — photographers have been "dodging and burning" their photos since the days of film, darkening or lightening portions of the image to direct the viewer's eye and highlight certain features. But John D. McHugh, a veteran documentary photographer and founder of Verifeye Media, a mobile app that authenticates freelance journalists' first-hand footage and images and distributes them to publications, says that the ethical line isn't complicated.
"It's really simple — you don't move the fucking pixels," McHugh tells Inverse. "You don't move any key thing in the picture. You don't take out any pixels."
The most glaring example is this photo, taken by McCurry in Cuba:
The editing fudge is in the red circled area, too small to see at a normal size. But during an exhibition of McCurry's images, an Italian photographer noticed a poorly photoshopped mistake giving a pedestrian far in the background a yellow peg leg.
Blown up, it looks like this:
The guy with the black shirt has the bottom of a street pole growing out of his leg. That doesn't happen naturally. McCurry blamed a technician for the mistake, but it's possible that whomever made the manipulation trying to move the subject in the black shirt sideways so that he wasn't in line with the pole, which can be visually distracting. And after that, the reports started pouring in.
This photo, for example, is a stunning shot of village boys running in Bangladesh.
The original photo has been removed from McCurry's website, but you can still see it in this PetaPixel story. There's an extra kid on the right hand side of the frame, and a lot more spray from the water obscuring the boys in the background. Indeed, several Indian photographers have accused McCurry of staging his images, even before the era of digital cameras, another cardinal sin in documentary work.
McHugh says that Photoshop and other image editing tools have pushed photo alterations far past the limits of what you could do on film, and far beyond what is acceptable in documentary photography. While any photograph is subject to the vision and eye of the photographer and cannot be truly objective, altering images to show things that weren't in front of the camera is completely unacceptable.
"You shoot what's in front of you, and then you deal with what you got," McHugh says. "That is what makes you great, or lucky, but mostly it makes you a man or a woman of integrity, that you've accept that you've gotta fuckin' suck it [deal with it] when the man or the lamp post was there in the wrong place. It is live by the sword, die by the sword — these are the rules that we're supposed to work to."
And the photojournalism world is taking a hard line against any form of photo manipulation. Reuters now insists that its photographers shoot in .JPG format, not .RAW, which allows more data for manipulation, although JPG files can also be easily manipulated. In 2014, the Associated Press fired Narciso Contreras, a Pulitzer prize-winning freelance photographer, because he photoshopped out a colleague's camera that was in the corner of a photo taken in Syria. Contreras appears to only have made the mistake once, and he turned himself in. McCurry has allegedly been at it for years, and McHugh says that could really affect the coming generation of photographers.
"It galls the shit out of me, that there are photographers who have looked at his work and strived to achieve something as near-perfect, and get their shit to near that level, and it turns out that that level is nearly fake," McHugh said.
McCurry's work is spectacular, from a purely visual standpoint. But his excuse for changing the truth of his photos to make them more aesthetically appealing is a matter of semantics, not ethics. In reply to PetaPixel, McCurry wrote, "Today I would define my work as visual storytelling, because the pictures have been shot in many places, for many reasons, and in many situations."
McHugh and many other photojournalist's don't buy it, however. He compared it to a reporter writing a story from afar as if they were at the scene, but not explicitly saying so, so they could retreat from the story if someone doubted their version of events. Unless someone is explicitly shooting an art or commercial piece, it's considered dishonest to manipulate images presented to the viewer as reality. Even in fashion photography, Israel has mandated that organizations notify viewers when images have been excessively photoshopped.
"As a photojournalist our job is to show somebody what we saw," McHugh said. Of course what different people saw in the same scene can be very different — a lot of it's happening in your brain and it's not conscious. I'm still fine with dodging and burning, but digital has taken it to a whole 'nother level. Just because something's easy to do doesn't mean you should."