Sony Is Hosting PlayStation VR Demos Across the U.S. Today and Tomorrow
This is a big opportunity to try out the kit ahead of launch.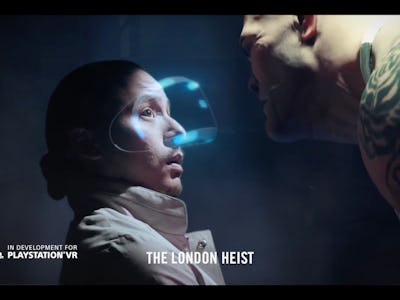 Sony/YouTube
PlayStation's virtual reality kit is almost here. There's a sentence that would have seemed unbelievable 10 years ago, but in just under four months time, PlayStation VR will be a real life thing that actual people can purchase. This Friday and Saturday, Sony is giving U.S. gamers the chance to try out the headset in a limited two-day offer.
Sony has revealed plans to host PlayStation VR headset tryout sessions in over 30 locations across the U.S., including New York, San Francisco, Washington D.C., and Houston. Participating GameStop and Best Buy locations will offer gamers the chance to try out five virtual reality games: PlayStation VR Worlds, EVE: Valkyrie, Headmaster, Battlezone, and SuperHyperCube.
This weekend will be a great chance to try out the virtual reality set as soon as possible, but if you can't make it, all is not lost. After this initial demo tour, PlayStation VR will be available for tryouts from June 24 onwards in more than 300 places, in both the U.S. and Canada.
PlayStation VR is priced at $349, making it one of the cheaper virtual reality kits. You do, however, need a PlayStation 4 and PlayStation Camera. Additionally, two Move controllers (sort of like Wii remotes) are recommended for simulating arm movements inside the virtual world.
Select retailers, including Best Buy, are stocking a bundle that includes all of the above (minus the console) plus the PlayStation VR Worlds game, a collection of five short virtual reality experiences. The London Heist lets you play as a gangster in a robbery, Into The Deep lets you explore the ocean as a deep sea diver, and VR Luge puts you in the position of a street racer in California. Scavenger's Odyssey lets you hunt for alien treasure, while Danger Ball is an action-packed ball game.
The full list of cities hosting demos is below, or you can click here to search for nearby demo sessions.