Smith & Wesson's Sales Increased Profits by Nearly 50 Percent Over the Past Year
After a slew of mass killings throughout the year, Smith & Wesson reports that it experienced a huge increase in profit thanks to rising sales over the past year.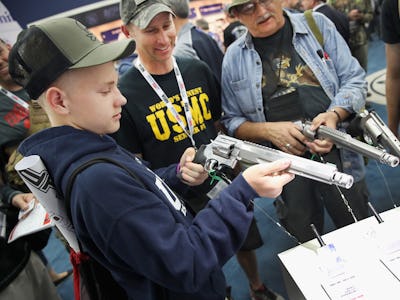 Getty Images / Scott Olson
Days after 49 people lost their lives in the worst mass shooting in American history, gun manufacturer Smith & Wesson released its fourth quarter and fiscal 2016 financial results, and the record showed that sales have been strong over the past year. In the final quarter of a year that continued the worrying American epidemic of gun violence here at home, Smith & Wesson reported $221.1 million in net sales, an increase of 22 percent over their sales in 2015. Firearms alone account for $203 million of that profit, with accessories rounding out the rest.
Smith & Wesson's inventory carries several assault rifles (its M&P-15 stands as the company's equivalent to the AR-15), which are currently under public scrutiny for also being the weapon of choice when it comes to America's most terrifying mass shootings. The company credited its customers for the increases, whom it described as "rugged outdoor enthusiasts" no less than five times throughout the report, including within the company's mission statement. "In fiscal 2016, we generated $168.6 million in operating cash flow, establishing a new company record," said the company's Executive VP and CTO, Jeff Buchanan. The company's full net year sales totaled to a whopping $722.9 million between its firearms and accessories division.
Smith & Wesson's M&P assault rifle was most recently used in the San Bernardino Massacre on December 2 of last year, when Syed Rizwan Farook and Tashfeen Malik walked into an office party and gunned down 14 people as well as injuring 22. The rifle was one of four recovered from the shooting, which also took the lives of Robert Adams, Isaac Amanios, Bennetta Betbadal, Harry Bowman, Juan Espinoza, Aurora Godoy, Shannon Johnson, Larry Daniel Kaufman, Damian Meins, Tin Nguyen, Nicholas Thalasinos, Yvette Velasco, and Michael Wetzel.
Ever aiming for the rugged and outdoorsy, it's no surprise that the industry surrounding Smith & Wesson has come to refer to assault rifles as "modern sporting rifles." The United States is now home to one-third of the world's mass shootings — meaning that while the rest of the world splits the other two thirds, here at home, we have killed each other the most.
The company is keeping his expectations high for next year, according to James Debney, Smith & Wesson's Holding Corporation President and CEO. "Looking ahead to fiscal 2017, we expect that a strong balance sheet, combined with our track record of successful acquisitions, positions us well for an expanding role in the market for products for shooting, hunting, and rugged outdoor enthusiasts," Debney said in the report.