New 'Jason Bourne' Trailer Finally Lets Us Know Why He's Come Back Onto the Grid
The new movie, with Matt Damon reprising the title roll, won't just be about people recognizing Jason Bourne.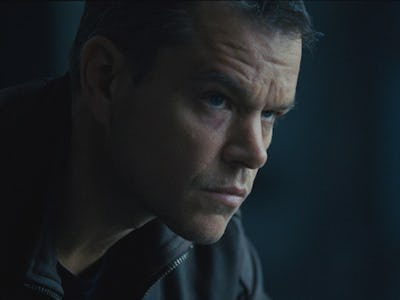 YouTube
Last year's mega hit Jurassic World isn't the only franchise that producer Frank Marshall has recently helped resurrect. Twelve years after the The Bourne Ultimatum, Matt Damon's action sorta-hero is back again in Jason Bourne.
In the latest preview of the film, Bourne matched the FBI agents' frantic screaming by yelling his own spoiler-ific stuff about how the shady government agencies got him into this whole mess in the first place. Unfortunately for Bourne his very particular set of skills (whoops, that's anothermovie] may or may not have been built on lies.
According to this latest trailer uploaded Wednesday, we learn that Bourne allegedly volunteered for Operation Treadstone (the top-secret black ops program that turned agents into super assassins) because his father was supposedly killed by terrorists. But Tommy Lee Jones lied to him, and Jason Bourne doesn't like being lied to.
They've been a bit light on just why Bourne has come out of hiding once again, but a new teaser has given us some spoilers into why he decided to make his return after being off the grid all this time.
While the early trailers solely be about Damon driving around in fast cars, pummeling random people in the face, firing a variety of increasingly complicated weapons, and people staring into gigantic computer screens while yelling, "Oh my god, that's Jason Bourne."
Check out the "preview" below:
Kudos to writer/director Paul Greengrass (who returns after helming the second and third Bourne movies) and co-writer Christopher Rouse for trying to make Bourne relevant in the age of ISIS and mass surveillance. This lie about Bourne's dad could be a huge spoiler,but it will most likely be the first of many twists this movie has up its sleeve.
But to be honest, who really cares about Bourne's backstory at this point? Anybody who can easily explain what we know about Bourne because of the first four movies leading into this one should get some sort of prize because it seems like the story has been changed with each installment. Bourne cant seem to remember his past, so we don't really have to worry about it either.
Jason Bourne stars Damon and Julia Stiles (who appeared in the earlier films), and adds Jones, Alicia Vikander, Ato Essandoh, and Vincent Cassel as newcomers. It hits theaters July 29.