iPhone 7 Could Use Futuristic Liquidmetal Material for New Home Button
Apple has exclusive rights to use the mysterious material.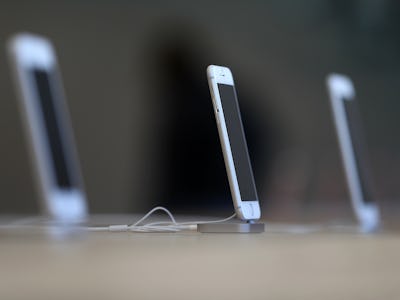 Getty Images
Apple could be gearing up to outfit its next iPhone with a revolutionary new material. A new leak posted Wednesday claims the iPhone 7 will have a touch sensitive home button. If true, it could mean that Apple is planning to incorporate Liquidmetal into its flagship phone in a big way.
A leak reported by MobiPicker shows the iPhone 7 with a home button that sits flush with the screen. Instead of having a physical button, the site says that Apple is considering a touch-sensitive area. Although many Android devices use a similar design, the switch would mean losing the tactile feedback of pressing a button.
However, MacRumors notes that Apple was granted a patent back in March for a Liquidmetal home button. When a user presses down, the button would deform and register a press, returning to its original shape when released. It's one of the many properties the mysterious material possesses, and its use in this case would mark one of the first times Apple has put its properties to good use.
Liquidmetal is an alloy developed by Liquidmetal Technologies. Technically known as a bulk metallic glass, it has several properties other than bounciness that could turn out to be useful for Apple's operations. For example, the material can act as an antenna, which would mean Apple could completely eliminate the lines that run through its aluminum-cased phones and move to a totally seamless case design.
Apple has the exclusive rights to use Liquidmetal in consumer products, an agreement that has been in place since 2010. Since the agreement was signed, however, the company has most prominently used Liquidmetal to make a tiny SIM ejector tool, bundled in with every iPhone.
The wait may not be surprising, however, as the inventor of Liquidmetal Dr. Atakan Peker said back in 2012 that Apple is "years" away from mass producing a product that employs the material. Which, all things considered, would mean we're just about due for Apple to finally put it to good use.