Mars Explorers Wanted: NASA Releases Gorgeous New Posters
NASA has decided to get creative with savvy faux-recruitment posters for future space colonists.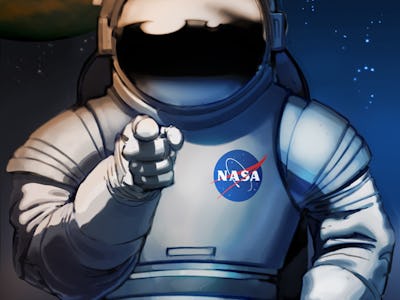 NASA/KSC
At the start of the year, SpaceX founder Elon Musk said that he intended to send the first manned mission up to Mars by 2024 — with an arrival in 2025. With a potential decade in the way of our first trip to the red planet, NASA, which has its own Mars plans, has put together a collection of posters, stylized and sleek, to recruit future settlers and explorers. With these posters, NASA bridges beyond the landing and explores the potential of settlements on both Mars and its moon, Phobos; from everyday life to the jobs needed to establish life on Mars.
The posters — which you can download — were first introduced at an exhibit on future Mars/moon exploration.
"The messages were geared to inspire the next generation of explorers (and their families and teachers!) when they visited the KSC Visitor Center and saw exhibits," explained Michelle Viotti, manager for Mars Public Engagement at NASA's Jet Propulsion Laboratory, tells Inverse. "They are fun, but also meant to inspire thoughts about STEM careers and the possibilities for our collective future in space someday in the future."
The posters advertise for positions as explorers, farmers, teachers, and surveyors. They highlight Mars' moon, Phobos, as a potential location for mining facilities, and the prospect of watching Phobos rise and fall twice above the Mars horizon.
While most of the series is an imagining of what could happen — which is probably why it sounds like all of your favorite sci-fi novels — facts dot the descriptions of certain posters, such as one focused on farming that highlights the fact that crops can be grown in space.
"In space, you can grow tomatoes, lettuce, peas, and radishes just like you would find in your summer garden. New ways of growing fresh food will be needed to keep brave explorers alive."
All of the posters are available for free to print, and clock in at a hefty 30 x 48 inches at full scale.