Watch SpaceX Land a Rocket on a Droneship For the Fourth Consecutive Time
All while sending two satellites into orbit.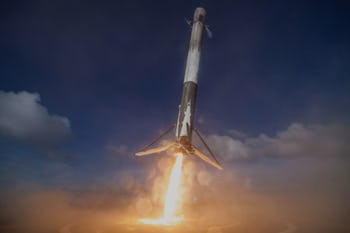 SpaceX
At 10:29 Eastern Time on Wednesday, SpaceX will deliver two commercial satellites into orbit as part of its sixth Falcon 9 rocket launch of the year and 26th overall. The company will attempt a successful upright landing of the first stage of the rocket on a droneship in the Atlantic Ocean for the fourth time in a row.
The official forecast calls for an 80 percent chance of favorable weather.
SpaceX and Elon Musk have been on an incredible roll when it comes to the droneship landing trick — have most recently accomplished the same feat just a few weeks ago at the end of May. And like the last two missions, this one will also be a flight up to geostationary transfer orbit (GTO) — roughly 22,236 miles above the surface of the planet and 18 times higher than the maximum limit of low-Earth orbit.
More fuel is required to go up to GTO — which also means there's less fuel available to help the Falcon 9 stabilize itself as it lands back on the ship. Of course, if the optics from the last mission is any indication, SpaceX is in very good shape to stick the landing safely.
GTO is more optimal for communications instruments. The two satellites being launched, EUTELSAT 117 West B and ABS-2A, are a second pair of Boeing-built spacecraft launched by SpaceX into orbit this year. Those satellites are also part of a new generation of all-electric satellite instruments.
Like the other efforts to bring a rocket back down to earth after launch, Wednesday's mission is part of a larger goal to make spaceflight less expensive by making rockets reusable. SpaceX hasn't yet fired up any of the rockets its retrieved, but Musk did express hopes the company could send one of them back up into space sometime this summer.
Most notable, perhaps, is that Wednesday's mission is just four days after United Launch Alliance launched the largest and most powerful rocket into space. The SpaceX launch won't be quite as dramatic, but should be a fun spectacle nevertheless. You can tune into a live webcast of the launch here on Wednesday morning.