FanDuel and DraftKings Could Merge. Now What?
The company would control 95 percent of the market.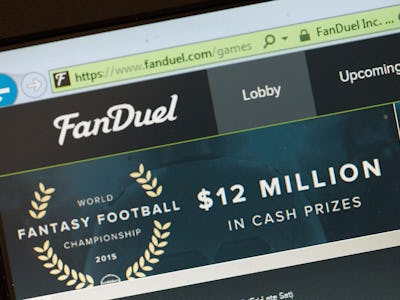 Getty Images / Scott Olson
Talks between FanDuel and DraftKings, the two largest daily fantasy sports sites in the country, each recently valued at more than $1 billion, began about three months ago but have become more serious in recent days. An attempt to bring the two sites together has long been an open secret among industry insiders, as a joint company would control 95 percent of the market, virtually eliminating the need to run costly advertisements and giveaways to lure customers away from the other.
Both sites expanded quickly last year, launching huge advertising campaigns to coincide with the MLB and NFL seasons. The added attention brought renewed scrutiny, especially as the sites earned investments from groups like Google, the MLB, and ESPN. Company leaders at FanDuel and DraftKings insist that their platforms require skill and knowledge of the relevant sports, not just luck like a gambling platform. But regulators in some states have ordered the two fantasy daily sports to shut down over allegations that they constitute little more than online gambling. Both FanDuel and DraftKings are currently banned from New York, which had previously been the largest market for the industry, and nine other states.
But the greatest legal challenge posed by a potential merger would likely be over concerns that the companies were seeking to monopolize the daily fantasy sports market. Monopolies are not in and of themselves illegal, but official scrutiny of business practices increases as a company gains significant market share over an industry. For two sites currently in the throes of tough competition, a merger that results in increased prices and fees could look a lot like price discrimination, one of the categories the government looks at before deciding to pursue charges.
A difficult past few months has likely driven the once bitter rivals to talks, as the companies have lost almost half of their $1 billion valuations due to limitations on their activities. States like New York have banned daily fantasy sports, but legislators have recently introduced legislation that would carve out an exception in the online gambling statutes for the disputed activities.
The New York legislation was expected to proceed by this week, according to reports, so company officials may be preparing a merger as a fallback if the major market remains closed to the industry.
A merger is not yet set in stone, in part because the union may create as many problems as it averts. It's a risky maneuver, but the popularity of online daily fantasy sports in areas where it is legal would certainly suggest there is money to be made. Ironically, the future of the daily fantasy sports sites may rest on an ambitious gamble — that they are stronger together than apart.