Assassin's Creed: Everything You Need To Know About The Movie Now
The upcoming 'Assassin's Creed' film starring Michael Fassbender highlighted Ubisoft's E3 press conference.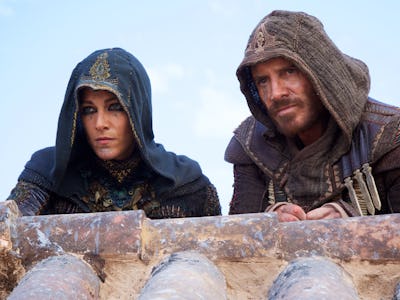 EW
Today's Ubisoft press conference was confusing, a little awkward, but just exciting enough to make folks forget about dancing giraffes. Amid a slew of new titles and the highlight of Watch_Dogs 2, host Aisha Tyler sat down with the legendary Frank Marshall to talk about the upcoming film, which will release one week after Rogue One in December. The film is the first feature-length venture for Ubisoft Motion Pictures, a new venture spawned by the game developer.
The story focuses on Callum Lynch (Michael Fassbender), a seemingly average person with an incredible family history. Fassbender plays both Callum and his descendant, a 15th-century Spanish Assassin named Aguilar. But there's one major difference between the film and the popular game series that inspired it: most of the movie will be set in present-day. Kidnapped by an organization known as Abstergo, Callum must learn about his past in order to take down the corrupt company – governed by the Templars, who hope to manipulate and control history to gain power. To do this, Abstergo uses the Animus, a device (or, in this case, Huge Scary Claw Robot) that can simulate genetic memory.
Joining Fassbender on the cast are huge names like Marion Cotillard, Jeremy Irons, Brendan Gleeson, Michael K. Williams, and The Lobster's Ariane Labed.
As previously mentioned, one of the massive changes to the storytelling is the fact that most of the story — 65 percent, according to Frank Marshall — is set in the present-day. Traditionally, the Assassin's Creed games focus on the lineage of protagonist Desmond Miles (save for the latest ones, and a few spin-off titles) by transporting players back in time to live out the adventures of his ancestors. The Abstergo plot still ran throughout the game, but in small spurts and cutscenes; most of the action was on the decorated rooftops of Italy, on the streets of colonial America, and in the heat of the Third Crusade in the Holy Land (or, Syria).
With its energy likely focused on bringing the game franchise to the big screen as an ongoing story, Ubisoft is, presumably, trying to establish the present-day plot so that further adventures might take less explaining - but that's just our guess.
Regardless, the movie is on track for it's release, and Frank Marshall is excited for it. "We have a new story, we have a new hero, dynamic supporting players and characters, we mixed a little bit of the old and the familiar up with a new element."
Assassin's Creed hits theaters on December 21st.