Sony at E3: Virtual Reality Dominates The Evening
Sony announced the release date and price for the Playstation VR, as well as 50 new playable additions for the headset.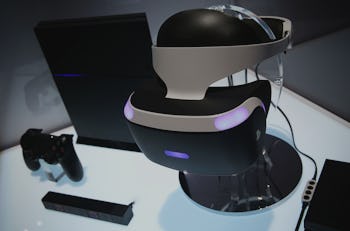 Getty Images / Alex Wong
There's always a bit of debate about who (or what) "wins" the Electronic Entertainment Expo every year. The console wars of yesteryear still rear their ugly heads among players, and the divide – on which platform dominates all – persists. After the day's rather awkward start, Sony's conference was a breath of fresh air, letting the games speak for themselves as the Playstation VR was finally shifted into the spotlight.
The Playstation VR will release on October 13, priced at $399. After sitting forgotten on the back burner, the VR headset is becoming a prominent accessory, with a slew of VR titles and game additions heading to the console by the end of the year. Sony may not have ventured very far into VR-only titles, but the transition was visible – and it was awesome.
Star Wars: Battlefront will soon immerse players even more, with an incredible X-Wing VR Experience. It will be free for everyone who owns Battlefront already, and is set for release later this year.
Heading into darker territory, Resident Evil 7 biohazard will give players the option to experience the game in an immersive way, terrifying way that Hideo Kojima and Guillermo Del Toro's P.T. may have. For anyone who was able to demo KITCHEN last year at the show, this haunting walk through the area may seem vaguely familiar, making Resident Evil's return to the spotlight one worth waiting for.
Final Fantasy XV introduced a VR capability that suits players up for combat and puts them in the middle of the epic battles that recall some of the saga's greatest moments. Unfortunately, the demo seemed limited to something of a first person shooter, but that may not be the full representation of the game.
One last, exciting addition that stood out among the rest was Mark Hamill's chilling Joker voice introduced an upcoming Arkham VR mission, putting you into the cowl of the Dark Knight.
Sony Interactive Entertainment Chairman Shawn Layden said that the Playstation VR will boast a whopping 50 titles by the end of 2016. At $200 less than the Oculus Rift, the sheer numbers of playable titles and additions might be what cinches it for the PSVR's sales.