The FAA Just Approved This Completely Insane Flying Dune Buggy
It's a flying dune buggy for really getting after it on the weekend.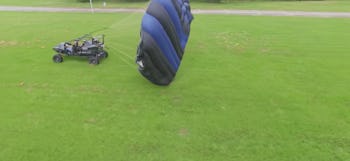 SkyRunner 
The company behind the dune buggy with a giant parachute attached to the top of it (so, a flying dune buggy) today announced it's received Federal Aviation Administration approval. Called the SkyRunner, it earned a "Light Sport Aircraft" or S-LSA classification.
The SkyRunner first went viral a few years ago when a CNN Money video showed it driving, jumping, and flying all over the damn place – which, for the most part, seems to be the entire point of the SkyRunner. It's a fairly simple vehicle, in that it's a dune buggy, but becomes significantly more complicated when you consider that it is now considered an airplane in the eyes of the federal government.
SkyRunner will start churning out the machines from its 68-acre manufacturing plant in Shreveport, Louisiana, which seems like an appropriate sort of place to build a dune buggy/all-terrain-vehicle that also can fly. If you think we're overselling this whole thing about how it is a car, that also flies, which seems somehow both incredibly cool but also very unsafe, check out this video below.
The S-LSA classification applies to factory-made vehicles with a certain guarantee of "airworthiness," as opposed to E(experimental)-LSA classifications which can sometimes be assembled from a kit, like ultralight planes and hang-gliders.
This is not a drill, it is real, and soon you'll be able to buy one:
And here's a longer shot from a side-mounted GoPro camera.
People have been messing with extremely daft ways to launch themselves into the air for years, and we've seen some pretty wild versions of helicopters and drones. But the SkyRunner seems to be taking personal flight to an almost terrifying level of "weekend-warrior" nonchalance.
The company also has fully bought into the 'MURICA moto-freedom branding, which is rarely in good taste, and are now offering an "Urban Combat Center" where you can fly your dune buggy around and shoot things with machine guns, which will certainly go over extremely well with people who pre-ordered Call of Duty: Infinite Warfare and have yet to turn 13; or, people who work as software programmers but use their disposable income on circumventing ATF regulations with expensive AR-15 builds and cell phone guns.