Guardsman Faints During Queen's Birthday: Here's Why
Not one but two of Queen Elizabeth's Guard have taken a spill during her 90th birthday celebration. Why?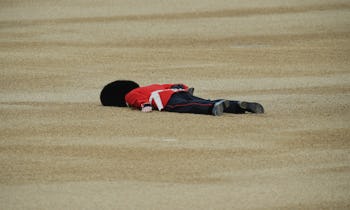 Getty Images
When you have a three-day birthday celebration, some people just can't hang. Such has been the case for Queen Elizabeth, who has watched two of her Queen's Guard soldiers faint in the first two days of her bash. Today's Trooping the Colour parade saw the latest gent go down at Horse Guards in Whitehall. Yesterday, a red-clad serviceman face-planted outside St. Paul's Cathedral. A Ministry of Defence spokesperson acknowledged the news, saying, "We can confirm that a member of the RAF Regiment who was involved in the step lining ceremony for the Queen's 90th Thanksgiving Service at St. Paul's Cathedral fainted. The individual recovered and returned to his duties." Clearly, this isn't a coincidence. Why are these dudes fainting?
Standing for an Elongated Period
Medically termed "syncope," fainting is a loss of consciousness due to reduced blood flow to the brain. It almost always occurs while standing. These homies were standing for a long time.
Heat
Reports out of London have the weather at over 20 degrees Celsius. That's almost 70 degrees Fahrenheit, which might not sound like a whole lot but London is a fairly humid place and that mark has been registering around 75 percent.
Attire
Yo, those suits and hats are heavy as hell. No wonder the military attire combined with the heat are the official causes being blamed for the incidents.
Dehydration or Hunger
I'm not saying these two might've had a few too many pints celebrating the Queen's big number at the pub, but I'm not not saying that, either. Also, if the dudes didn't drink enough water or have a proper meal before duty: game over.
Fear, Anxiety, Pain, or Stress
These can all play a factor, too, and lead to hyperventilation.
Genes
Fainting runs in families. A 2012 study in the medical journal, Neurology, found that "among twins where one fainted, those who were identical (from the same fertilized egg) were nearly twice as likely to both faint compared to fraternal twins (those from two different fertilized eggs)." Whoa.
More Serious Stuff
Chances are these young blokes were just hot, but fainting can also occur because of a slew of reasons that require serious treatment. These include postural hypotension, irregular heartbeats, seizures, hypoglycemia, anemia, and nervous system issues. If anyone in the Queen's Guard has problems with any of these, they should ask the Queen for health tips. She's a spry 90.