Annual Solar Installations to Hit "2 Million Within the Next 2 Years"
Environmental concerns and cheaper prices are big reasons why.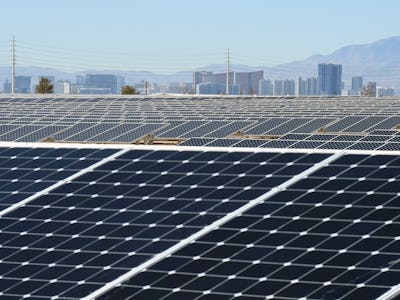 Getty Images / Ethan Miller
The solar industry is basking in its time in the sun. This year has already been a great year for the growing alternative to conventional energy sources, and with the price of installations continuing to fall and government subsidies for new fixtures extended all the way to 2020, the outlook has never been brighter.
In fact, after 2015 marked the first time in U.S. history that solar growth exceeded that of conventional energy sources, the first three of months of 2016 have continued to build on that success. Between January 1 and March 31 of 2016, more than 64 percent of all capacity additions in the United States were due to solar installations. That's 1,665 megawatts of new energy spanning residential and commercial properties and even reflecting the growth of separate solar farms.
"While it took us 40 years to hit 1 million U.S. solar installations, we're expected to hit 2 million within the next two years," Tom Kimbis, interim president of Solar Energy Industries Association's (SEIA), wrote in a joint report from SEIA and GTM Research, the research arm of Greentech Media.
And the growth isn't slowing down either. At the current rate, the U.S is expected to almost double its amount of solar additions over 2015. The industry is predicting 14.5 gigawatts (GW) of new capacity, 94% more than the 7.5 GW installed in 2015.
The higher rates of installations are due in part to consumers' environmental concerns about the effect of fossil fuels but also the improved economics of solar energy. Overall the price of solar installations fell by 8.8 percent in the first quarter of 2016 alone, with the price of commercial panels dropping 8.3 percent.
Perhaps the biggest battle faced by the solar industry in 2016 has also already been won. The federal Investment Tax Credit (ITC), which subsidies at least a third of the cost of new solar panels, had been scheduled to expire in December of 2016, but advocates successfully pushed the deadline all the way to the end of 2020.
Installations were particularly strong in the commercial sector with the residential market continuing to lag. Utility-scale solar farms, essentially solar power plants, will in fact probably account for at least three-fourths of all new solar additions. Residential solar power is also expected to rise by half a gigawatt in 2016, less than four percent total annual growth.
With enough energy coming in to power 5.4 million homes, the solar industry is fueling a growing segment of American life. It's a good thing too, because everyday we are becoming more desperate.