It's No Surprise the LAPD Chose BMW Over Tesla
How does $42,000 each sound?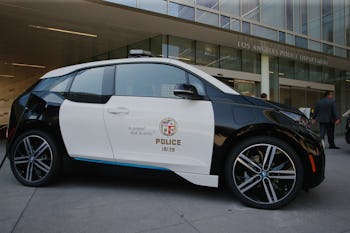 BMW
The Los Angeles Police Department has chosen the BMW i3, over perhaps a more fashionable option, to comprise its fleet of electric vehicles, the German automaker announced today.
BMW will provide the LAPD with 100 i3s for department transportation and community outreach. The LAPD started testing electric vehicles last year, and a pair of Tesla Model S P85Ds were also part of that test. While the Model S wins out in style and speed, there are a few reasons why the i3 choice was right for the nation's second-largest police force.
Cost: The i3 starts at $42,400 versus the Model S P90D (P85Ds aren't made anymore) starting price of $109,500. The LAPD has a $30 million annual budget and buys 600 to 750 vehicles every year. Outfitting police with flashy Teslas would eat up a considerable percentage.
The LAPD would also be paying for a lot of features it simply doesn't need if it went with Tesla. The electric vehicle fleet won't be involved in high speed chases — gas powered vehicles with more range will still handle that. Officers don't need to go 0 to 60 in 2.8 seconds for non-emergency situations. The i3 does an uninspiring 0 to 60 in around 7 seconds, and lasts 80 to 100 miles per charge.
"The attributes of the BMW i3 position it to excel as the ideal vehicle for municipal organizations," Ludwig Willisch, president and CEO of BMW of North America, says in a statement about the deal.
BMW also promises to provide charging infrastructure to the city: its "I centers" will service the LAPD's new fleet in a "convenient and cost effective way." Not to say that Tesla wouldn't provide infrastructure for the city, but BMW sure did sweeten the deal.
BMW's ConnectedDrive will help the LAPD manage their shiny new fleet, and the data system will integrate with the system the LAPD already uses. The German car manufacturer is also designing a "web tool" for the LAPD to "track their fleet in near real-time, contributing to improved deployment, utilization, and the efficient charging."
The likelihood of the LAPD choosing Tesla was never very high. An LAPD administrator told CNBC in May that Tesla isn't practical now, but may be in the next three to five years. Maybe the time will come when the force is looking for something with some power.