Open Bionics Designs Prosthetics Inspired by Marvel and 'Deus Ex: Mankind Divided'
The augmented future of Deus Ex is a reality thanks to Open Bionics.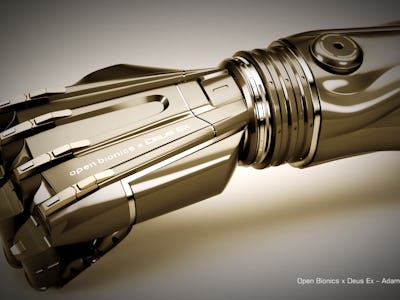 Open Bionics, Square-Enix, Eidos
Deus Ex: Mankind Divided is the latest, upcoming entry to the venerated cyberpunk series, Deus Ex. Set in a future where humans augment their bodies for enhanced mechanical capabilities, the citizens who live in the world of Deus Ex often sport mechanical limbs, or organs for enhanced abilities.
Open Bionics, a robotics company based out of Bristol, UK, has partnered with the developers of Mankind Divided to create a prosthetic arm based on the one the main character, Adam Jensen, has in the game, sans all the weaponry.
André Vu, Executive Brand Director of Deus Ex, says in the featurette about the prosthetic arm: "because we heavily promoted this kind of technology, some people thought we were really producing augmented arms." The video game developers then reached out to Open Bionics, who previously worked with companies like Disney to create prosthetic arms for children based on their films like Star Wars, Iron Man, and Frozen.
"It was a really natural fit when they got in touch with us. We were almost expecting it at some point and we formed this idea to try and turn Adam Jensen's arm into a real-life, bionic limb," recounts Open Bionics CEO, Joel Gibbard.
The company uses 3D-printing to help create fully functional, robotic arms at 30% less than their nearest competitor. When they partnered with Disney, the two companies saw the benefits of how pop-culture inspired designs could help children in need of prosthetic arms become excited about the physical therapy process. It's why Disney offered royalty-free licenses to its properties.
Open Bionics is the ideal partner to help physically realize the cyberpunk, Transhumanist themes of Deus Ex, and they're doing it while helping people.