FAA Announces New Tests That Will Cause GPS Outages; What Are They For?
Here's what you need to know about the ways that FAA's new tests will affect your everyday GPS.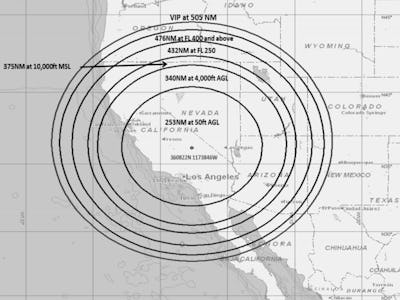 FAA
Today, the U.S. Military began new tests on a device, or a set of devices, that the FAA says will affect GPS devices on the West Coast. The upside to this news – for anyone who isn't a pilot – is that most GPS devices close to the ground won't feel an impact. For those in the air, though, the outages may be an incredible inconvenience. The tests, interestingly, are being kept under wraps.
On Saturday, the FAA issued an advisory warning to pilots, reporting that GPS service would be unreliable for 6 days this month: June 7, 9, 21, 23, 28, and 30th, between the hours of 9:30 a.m. and 3:30 p.m. PST. Though the statement was issued by the FAA, it appears the tests will take place in China Lake, California, near by the Navy's largest installation in the Mojave Desert. The range of potential lost signals stretches hundreds of miles long in each direction, will primarily affect aircrafts flying above 50 feet. The affected area reaches as far east as the colorado border, and roughly 500 miles past California's northern coast, and will reach 40,000 feet above sea level.
In a new report from Gizmodo, Naval Air Warfare Center Weapons Division Public Affairs specialist Deidre Patin was quick to answer any questions about the tests, but only vaguely. "We're aware of the flight advisory," said Patin. "I can't go into the details of the testing, it's general testing for our ranges." Gizmodo speculates that the tests are another step to combat jamming in GPS airwaves, which has become a heavy concern for both military and civilian aircraft.
While Waze isn't going to get any worse (and really, can it?) and it doesn't look as though any conspiracies are afoot, pilots over the west coast are still being told to take precaution, with some aircrafts — the Embraer Phenom 300 business jets — being told not to fly at all during the scheduled tests. The tests, if successful, could curb attacks on aircraft GPS systems by both terrorists and bold internet trolls, which pose a threat, thanks to the rise of cheap GPS jamming technology. Chances are slim, otherwise, that drivers on the west coast will encounter similar problems while slowly burning up in a traffic jam on the 405.