Samsung's Bendable Smartphones Reportedly Releasing Next Year
A new report from Bloomberg says that Samsung is looking to introduce a new kind of folding phone in 2017.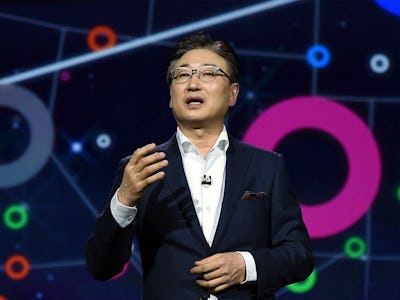 Fast Company
A few years back stories began to surface of the iPhone 6 bending after extended use. Obviously, Apple hit back, and denied the allegations that the iPhone 6, under any form of use, would bend — though the company did make sure to replace damaged models. Consider that, and the fact that futuristic phones, much like certain 4K Smart TVs, have been leaning toward a possible curved design – so it's easy to see that change is on the horizon.
Samsung is reportedly looking to solve the problem of bending phones by making a smartphone that is supposed to. Today, Bloomberg released a report on the developments, stating that there are two models right now; one of which includes a screen that folds like a compact mirror might.
This isn't necessarily new, but it does lend some credit to a rumor that started last year, detailing the company's plans for development. According to the report, the phone doesn't bend as much as it folds, and could be unveiled as early as 2017. A second smartphone device is in progress, say the Bloomberg sources – one that "will have a 5-inch screen when used as a handset, that unfurls into a display that's as large as 8 inches."
With OLED on its premium devices, Samsung hopes to lead the game with the advanced technology behind its products. The new devices, which are apparently being called "Project Valley", could release as early as February of next year. So far, though, it's not clear whether or not one or both will be debuting at that time, and Samsung has confirmed nothing.