'Supergirl' Casting for Superman Means You Can Stop Thinking 'Smallville'
The new CW superhero series will have a new man as the Man of Steel.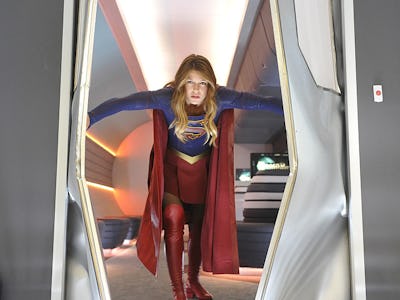 The CW
Superman will make his way into Season 2 of Supergirl when the series moves to the CW this fall, and there will be a new person wearing the red-and-blue tights. In a statement released by the showrunners, executive producers Andrew Kreisberg, Greg Berlanti, and Ali Adler confirm that Superman and his civilian alter-ego Clark Kent will be in the first two episodes of the season and that they "cannot wait to see who next dons the red cape!"
That means they're casting, which also means you can safely rule out previous TV Supermen: Smallville star Tom Welling, and you should already have crossed out Dean Cain, who is in Supergirl as Kara's adoptive father, Jeremiah Danvers.
While Supergirl was on the air, Tom Welling — who played Clark Kent in the WB/CW action-drama Smallville — commented about reprising his Man of Steel in Supergirl. "There's people who would like it… there's people who don't like it, but I will tell you that no one has ever asked me to do it," he told BuzzFeed. "So, I dont know. It would be kind of odd. I don't know who he is at that point."
Superman's upcoming appearance in Supergirl wouldn't be the first time he would actually be in the show, though. Throughout its first season Superman made hilariously obscured cameos, or shown off-screen, or was a disembodied presence that Kara texted while at work. But now, in Season 2 Superman will show up, chiseled jaw and all. Whoever's jaw it will be is still undetermined.
Supergirl returns for Season 2 on the CW this fall.