Here Are Some Star Trek Bathing Suits, Cuz Why Not?
Why Patrick Stewart isn't modeling these 'Trekinis' is a mystery.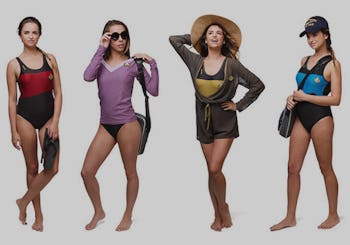 In case you were concerned the Star Trek brand wasn't cashing in on the twin facts that this year is the 50th anniversary of the franchise and that people like going to the beach, don't worry: new Star Trek swimming suits have arrived.
Popular retailer ThinkGeek recently revealed its new line of Star Trek: The Next Generation-themed bathing suits called the "Trekini." The styles mimic the uniforms for the red, blue, and gold designs for Enterprise crew during, plus there's one swimsuit that's supposed to be just like the kind of sexist catsuit outfit Deanna Troi was forced to wear for most of the show until the last two seasons when everyone realized she could wear a regular uniform.
Two things are notable here: 1. These Star Trek bikinis are not bikinis. They're one-piece bathing suits. 2. They are inspired by the only version of Star Trek in which the most notable swimming sequence featured Patrick Stewart hanging out by a pool reading a book. Still, if you like American Apparel-esque stuff and 90's era Star Trek-cosplay, these aren't the worst Star Trek products of all time.
Still, one can't help wondering when we'll get some buy-able version of Captain Picard's shinny, super-short, and totally dope, space trunks.