Compare This Incredible 'Raiders of the Lost Ark' Shot-For-Shot Trailer to the Real Thing
Drafthouse Films tries to prove that its new documentary, 'Raiders!' is the greatest fan film ever made.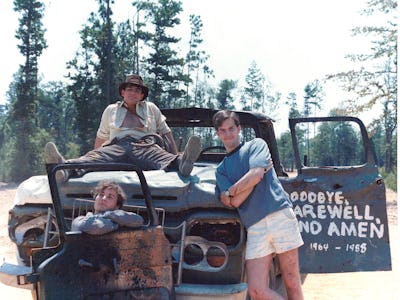 Drafthouse
Fans of Steven Spielberg's classic 1981 film Raiders of the Lost Ark, which will have its 35th anniversary later this year, undoubtedly know the legend: a group of 11-year-old kids used a VHS camera and their fandom to remake the movie as exactly as possible, over the better part of a decade. It turns out those kids eventually finished the movie, and the process is chronicled in the upcoming Drafthouse Films documentary Raiders! The Story of the Greatest Fan Film Ever Made. So how close did these kids get to remaking the real Indiana Jones movie? A side-by-side video just released by Drafthouse reveals they were pretty spot-on.
That fateful confrontation between Indy and Belloq, the truck chase sequence, and even the iconic boulder scene from the real movie's opening are all faithfully recreated with minute and scrappy detail. Granted, not everything matches up precisely, but it's a testament to these kids wanting to honor something they love by doing their own version.
Check out the shot-for-shot comparison below:
Raiders! The Story of the Greatest Fan Film Ever Made hits theaters and VOD from Drafthouse Films on June 17. But since this is Drafthouse, there's something extra. The two stars of the film, Chris Strompolos and Eric Zala, are touring the country with a double-feature screening of the documentary and a theatrical version of their complete Raiders of the Lost Ark adaptation. They're visiting over 35 cities starting June 2 in Seattle and ending August 4 in Jacksonville, Florida with more stops added everyday.
Head on over to Drathouse's site for tickets and more information.
Here's the synopsis:
"After Steven Spielberg's classic Raiders of the Lost Ark was released 35 years ago, three 11-year-old boys from Mississippi set out on what would become a 7-year-long labor of love and tribute to their favorite film: a faithful, shot-for-shot adaptation of the action adventure film. They finished every scene…except one; the film's explosive airplane set piece. Over two decades later, the trio reunited with the original cast members from their childhood in order to complete their masterpiece. Featuring interviews with John Rhys Davies, Eli Roth and more, Raiders!: The Story of the Greatest Fan Film Ever Made is just that: the story of this long-gestating project's culmination, chronicling the friends' dedication to their artistic vision-mixed in with some movie magic-to create a personal, epic love letter to a true modern classic."
And be sure to check out the film's trailer below:
Now the question is: will somebody remake this trailer shot-for-shot?