Mark Hamill Wants to See Your Nerd Collections in New Comic-Con TV Show
'Mark Hamill's Pop Culture Quest' will see the 'Star Wars' star get weird with nerds in a new docu-series for Comic-Con HQ.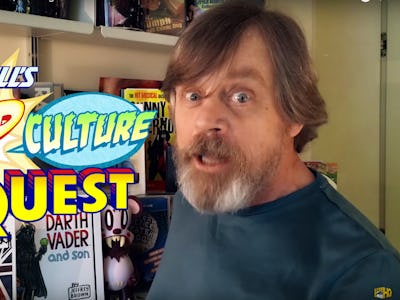 YouTube.com/Comic-Con HQ
As someone whose likeness has been reproduced into plastic and other assorted merchandise for decades, Mark Hamill is an interesting figure to be interested in collections. But the Star Wars actor known for playing Luke Skywalker will embark on a global, fan-driven journey in Mark Hamill's Pop Culture Quest, a new docu-series set to debut on Lionsgate's nerd-centric subscription VOD platform, Comic-Con HQ later this fall.
Co-produced by Return of the Jedi producer Howard Kazanjian and starring Hamill as host, Pop Culture Quest will see Hamill meet fans and collectors who will introduce Comic-Con HQ viewers to their own little corners where passion and weirdness collide.
"I've been a collector all my life," said Hamill, an avid collector of memorabilia since the '70s, in a statement. "This show is a natural outgrowth of that passion. Now I have an opportunity to collect other people's collections! Collectibles are a living history of who and what we are, so we just might learn something…but there's no doubt we're going to have fun!"
Comic-Con HQ EVP and General Manager Seth Laderman emphasized Hamill's presence to the new service, whose beta launched only last month. "Passion is at the heart of all of our original series, with a goal to allow innovators like Mark the opportunity to create and bring their ideas to life. We couldn't be happier to help Mark's show find a home."
Hamill is currently abroad filming a little movie called Star Wars: Episode VIII with Rian Johnson. Production on Pop Culture Quest will begin in June when he returns from being a silent Jedi. Comic-Con HQ officially launches in July, during the weekend of Comic-Con International in San Diego.