Britain Will Start Using Plastic Money in September
Britain's new polymer £5 banknote marks the nation's first foray into an increasingly popular global fad: plastic money.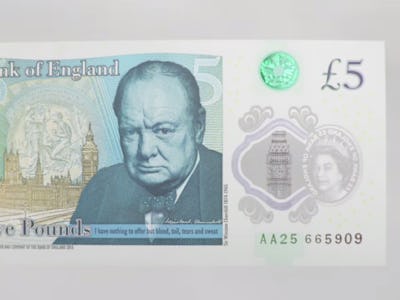 Youtube/Bank of England
If you've ever handled American money, chances are, you've tried to nonchalantly hand over a ripped dollar bill to a cash-register clerk. If the damaged bill wasn't accepted, maybe you tried to tape it back together to salvage the value – except it has none when it's in two pieces. We in America still have to use caution when handling our money made of linen and cotton, but Britain's new polymer £5 bill is a pivotal step toward eco-friendly, sturdy, and safer currency for our friends across the pond.
The new fiver features a portrait of Sir Winston Churchill and is the first plastic note Britain has introduced since the Bank of England established paper currency more than 320 years ago. Relaying the benefits of the new plastic bill in a Guardian article, governor of the Bank of England Mark Carney said: "It is stronger than paper and can better withstand being repeatedly folded into wallets or scrunched up inside pockets. Polymer notes can survive a splash of Claret, a flick of cigar ash, the nip of a bulldog, and even a spin in the washing machine afterwards to boot."
How long will it last?
As opposed to the two-year lifespan of traditional notes, the new and recyclable £5 bills are expected to last up to five years, thereby enabling the government to print fewer, and save energy that goes into manufacturing and transporting the money. Unless you're using an inordinate amount of might to prove the British government wrong, the thin and flexible plastic is nearly impossible to rip in half, which precludes ever taping a bill back together to use it.
Is it more secure than traditional money?
The new bill also boasts state-of-the-art security features that will make it harder to counterfeit. The words "Bank of England" at the top of the bill are printed in raised ink, the word "Five" changes to "Pounds" in the hologram; Big Ben is in gold on the front and silver on the back, and the border of the transparent window with a portrait of the Queen changes from purple to green. The new notes will also have tactile features that allow the visually impaired to differentiate between them.
Will all British money be plastic soon?
The new £5 note may be the first plastic bill in British currency, but it certainly won't be the last. In the summer of 2017, a Jane Austen £10 note will be introduced into circulation, followed by a £20 note with Joseph Mallard William Turner by 2020. No plans to make a plastic £50 note have been announced, although it seems inevitable, given the current progression of Britain's banknote changes. No plans have been announced to turn Britain's famous coins of the pound Sterling into plastic, though.
When will Britain debut its plastic bills?
On September 13, 440-million polymer fivers will officially be introduced into circulation. Then, banks will begin shrinking the supply of paper £5 bills, which will no longer be considered legal tender after May 2017.
Is Britain the first to do this?
Negative: Britain's switch to plastic currency follows in the footsteps of nearly 30 other countries, including Canada. "As Churchill did, we may have to wait a while for the Americans to join up," Carney joked at the unveiling ceremony, a reference to America's hesitation to join World War II.
Are there any changes coming to U.S. bills?
Beginning in the fall of 2013, the United States has rolled out redesigns for the $5, $10, $20, $50, and $100 notes that contain improved security features like watermarks, microprinting, and improved color shifting ink. The material of the currency, however, is made of 25 percent linen and 75 percent cotton, which leaves the bills susceptible to tearing.
Not only do the polymer bills complicate things for scheming counterfeiters, but they mark an eco-friendly and less expensive approach to printing and circulating currency. We work hard enough for our money–we shouldn't have to worry about it falling apart on us.