Here's the New List of Cars With Exploding Takata Airbags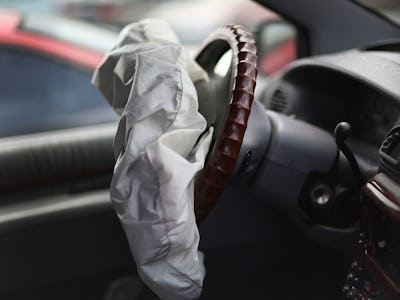 Getty Images / Joe Raedle
On Thursday, seven automakers announced a recall of a cumulative 4.4 million cars made since 2004 in the United States because they contain faulty Takata airbags. The largest auto recall in history now includes at least 1.9 million SUVs and trucks from General Motors, 217,000 Volkswagens, 200,000 Mercedes Benz, 92,000 BMWs, and 54,000 Jaguars. The Department of Transportation predicts that the recall will eventually affect over 68 million car or approximately one in every five vehicles on the road in the United States.
Takata airbags, installed without a particular sealant, have been linked to 10 deaths in the United States alone. When ejecting, the airbags have been found to fling shrapnel that can cause serious injury and death. The company has pledged to replace every one of the vehicles in the United States free of charge.
The huge extent of the recall has cast doubt on Takata's financial viability going into the future as well. The Department of Transportation has already levied a $70 million cash fine against Takata for knowingly selling dangerous airbags, a figure which could mount if the faulty parts continue to find their way into vehicles.
A U.S. Senate report released on Wednesday suggested this may be the case, as Fiat Chrysler, Mitsubishi, Toyota, and Volkswagen are still selling vehicles that are likely to be included in future recalls.
"This may be the first time in history where multiple automakers are selling brand new cars with a known, and potentially deadly, defect," Karl Brauer, senior analyst at Kelley Blue Book, told Reuters.
To search whether a particular vehicle is included in the recall, Takata has set up a dedicated web page. It recommends everyone, even those whose automaker is not listed in the main list, search their Vehicle Identification Number. Considering that one in five vehicles may end up being recalled as a result of Takata's errors, it's probably worth the effort.
The details of the most recent recall are below:
GENERAL MOTORS: Certain 2007-2008 Cadillac Escalade, Escalade ESV, Escalade EXT, Chevrolet Avalanche, Silverado 1500, Suburban, Tahoe, GMC Sierra 1500, Yukon, and Yukon XL. 2007-2011 Cadillac Escalade, Escalade ESV and Escalade EXT, Chevrolet Avalanche, Silverado 1500, Suburban and Tahoe, GMC Sierra 1500, Yukon and Yukon XL vehicles. 2009-2011 Chevrolet Silverado 2500 and 3500 and GMC Sierra 2500 and 3500.
FORD: Certain 2007-2011 Ford Ranger pickups; 2006-2011 Ford Fusion, Mercury Milan and Lincoln Zephyr/MKZ vehicles; 2007-2010 Ford Edge, Lincoln MKX vehicles; 2005-2006 Ford GT vehicles and 2005-2011 Ford Mustang.
VOLKSWAGEN : Certain 2004-2008 Audi A4 and 2005-2011 Audi A6 cars.
DAIMLER VANS : Certain 2010-2011 Mercedes-Benz Sprinter, 2009-2011 Freightliner Sprinter, and 2009 Dodge Sprinter vans.
JAGUAR-LAND ROVER : Certain model year 2007-2011 Land Rover Range Rover SUVs and 2009-2011 Jaguar XF cars.
BMW : Certain 2007-2011 X5 xDrive30i, X5 xDrive35i, X5 xDrive48i, X5 xDrive50i and X5M vehicles. 2009-2011 X5 xDrive35d, 2008-2011 X6 xDrive35i, X6 xDrive50i and X6 M vehicles, and 2010-2011 X6 ActiveHybrid vehicles.
MERCEDES-BENZ : Certain 2008-2011 C300 Sedan, C300 4matic Sedan, C350 Sedan, C63 AMG Sedan vehicles. 2010-2011 GLK350, GLK350 4Matic and E350 Coupe vehicles. 2011 SLS AMG, E350 Convertible, E550 Coupe and E550 Convertible vehicles.