How Much Money Does Takata Owe for Its Dangerous Airbag Inflator Recall?
Probably enough to deflate the company for good.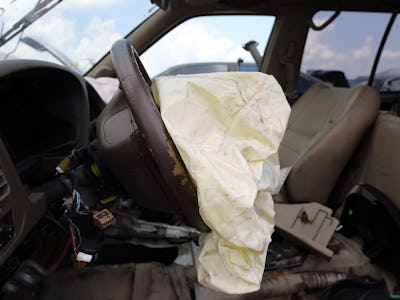 Getty
The number of faulty, dangerous, and sometimes deadly Takata airbags installed in vehicles could be more than 100 million worldwide. In the United States, the National Highway Safety Administration estimates as many as 68 million cars (which is around one in every four cars) are affected, with recalls extending out as far as December 2019 for models built in 2013.
But when the company announced its financial earnings today, it predicted to make a profit in the upcoming fiscal year, ABC News reports. This is after the company lost $120 million last year, the second year in a row it's reported losses.
Naturally, automakers are choosing a different airbag company for future vehicles, ABC reports. So how does a company facing the biggest recall in United States history plan to make a profit next year?
No one knows how much money Takata will have to spend to correct its airbag problem, because it hasn't received a final bill for all the airbags it has to replace. Car manufacturers like Honda, BMW, Toyota, and others that have Takata airbags are handling the costs upfront, and then will pass the bill to the world's second-biggest auto safety parts maker.
According to Reuters, the company could see overall costs from $9 billion as high as $24 billion if it is entirely to blame for the exploding inflators. Takata had $1.3 billion in assets as of December.
Takata's investigation into the extent of the issue will end this summer.
Eleven deaths and more than 100 injuries have been linked to Takata's faulty airbag inflators. After six years, the ammonium nitrate in the airbag inflators can become unstable in regions with high humidity and wide temperature fluctuations. When it becomes too much, the inflators explode and shoot sharp shrapnel into the vehicle.
"Once we determine the cause of the airbag defect," Yoichiro Nomura, Takatas CEO, said at a briefing, "Then we'll discuss costs with automakers."
Minus the recalls, the company expects to make $120 million this year from increased revenue and operating profit, according the Reuters. Provided that Takata is entirely responsible for the recall, it would take decades to pay back the costs. If, that is, Takata survives this recall at all.