Google's Sundar Pichai Doesn't Have Google Home Yet
Today at CodeCon, Sundar Pichai admitted that he doesn't test prototypes at home.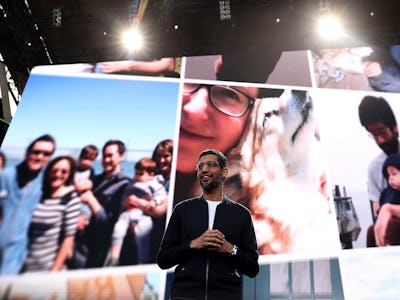 Getty Images / Justin Sullivan
CodeCon continued today with an on-stage interview between ReCode's Walt Grossman and Google chief executive Sundar Pichai. Just two weeks after leading discussions at Google's annual I/O conference, Pichai spoke with Grossman about mobile technology, competing with Amazon, and where the technology behind Home was headed.
Just as interesting was the interview that followed with The Verge, when Pichai admitted that he doesn't bring prototypes home and does not yet use the Google Home on a daily basis. Home has been a hot topic for a while now, after it rose up as one of the top competitors in the growing world of smart home assistance technology.
"[I] try to keep things simple at home," Pichai explained after talking about his rather traditional morning routine of drinking tea and reading the newspaper, but didn't shy away from talking about the advancement in technology that the Home had to offer. "There are moments where I think that 'Oh, it actually understands me' and … competing to be aware of context, to be sensitive, to be funny, and to do those things is really special."
Pichai expanded upon that idea during the interview with Grossman, looking ahead at the future of Google Home and its competitors:
In the next 5 to 10 years, building the true conversational understanding, and being able to have the dialog is where we plan to differentiate. The hardware is just a manifestation of that. We want to help people get things done. There's a lot of work ahead.
Softening up, he explained that the competition is less about beating one another, and more about innovation in the industry:
[Those companies] are phenomenal companies. It's not like Game of Thrones. It's more like the NBA championship or something like that. … I think of it more like we're all bringing electricity to Westeros. We're not trying to kill each other. … And it's still early days for all of us.
Also worth noting is the fact that Pichai mentioned Game of Thrones on stage and afterward during his interview with The Verge – so at least he has something nice to look forward to on Sunday.