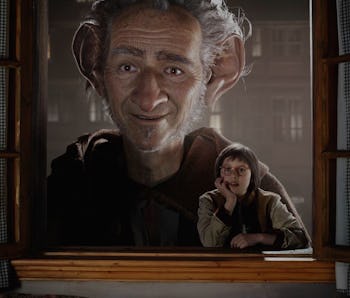 Entertainment
Everything We Know About 'The BFG,' Steven Spielberg's Adaptation of Roald Dahl's Book
Get ready for the long-anticipated CGI film about a friendly, flatulent giant: coming this summer.
Do kids even read books these days, let alone the works of Roald Dahl? It's tough to say. Whether or not — what many consider to be the dark-humorist, British author's best children's book — The BFG has captured the imagination of today's youth, the trailer for the Steven Spielberg-directed, Disney adaptation probably will.
In the clip, a shrouded giant tiptoes around shadowy cobblestone London streets in the wee hours of the morning — the real "witching hour" — and bears young Sophie away to a massive land of wonder ("Dream Country") and an intricate hideout. The Disney animation is one step away from not feeling like animation at all; the giant's face, an extension of Mark Rylance's, is stunningly lifelike — almost photographic.
The BFG which was shown at Cannes out of competition last month prior to its July 22 release date — promises an effects-based achievement to rival Jon Favreau's The Jungle Book. A dizzying exercise in swooping, vérité camerawork and giant-sized scale, it's only Spielberg's second animated feature — following 2011's The Adventures of Tintin. Once again, Spielberg is pulling from widely beloved and inherently difficult source material, which straddled child and young adult reading groups and captivated parents as well as children.
Tintin comics had seen numerous cinematic adaptations over the years, but mostly abroad, and nothing with even a reasonable fraction of Spielberg's budget and vision. The BFG has only been adapted as a 1989 TV film, and the gestation of its big-budget cinematic debut was an extremely lengthy one. The BFG is much more than a passion project Spielberg decided to make for his grandchildren. A script for the film has been in the works since the dawn of the '90s, during a time in which numerous of Dahls most beloved works were being adapted by Hollywood for the first time. In the late '80s and '90s, versions of Danny, Champion of the World, Matilda, The Witches, and James and the Giant Peach (perhaps the best Dahl film yet) hit the big screen.
It was Spielberg production company co-founder Frank Marshall and his wife Kathleen Kennedy who helmed the BFG project, which began development in 1991. It took until 2001 for a script to be okayed by Dahl's estate: a rewrite of a live-action 1998 instantiation, which had Robin Williams attached to star.
Spielberg himself only came on board as director in 2014, after Shakespeare in Love director John Madden (a weird choice anyway) pulled out. By this point, of course, the prospect of the live-action film it was originally intended to be seemed dated: A state-of-the-art approach was needed.
Can anything "wow" children anymore? Technology advances rapidly, but isn't that simply expected at this point? One wonders if Spielberg's The BFG will have the backbone, outside of its stunning visuals, to make a lasting impression?
The advance word from critics is: Well, it doesn't, entirely. The consensus seems to be that there's something of a lack of conflict, or arc here, which makes the film feel a bit less effective, and also, as The Village Voice cites, un-Spielbergian. It's rare that people deem Spielberg boring, unless you're counting his less fantastic, adult-friendly fare (see: War Horse). But, many critics seem to echo that The BFG expects the viewer to get lost in its world and Sophie's wonder, but doesn't quite earn it.
But do adults just not get it? In Dahl's dialogue-light book — and perhaps, because it was written for children — he manages to sweep young readers up in the surprise of being carried away to a strange world by an eccentric, meek giant. The box office returns in July will probably show us whether CGI can evoke any of this.
Hopefully, this will not be another Hugo, a high-end children's-movie experiment which appeals to no exact demographic, or a Golden Compass, a facile movie based on a book too imaginative for a by-the-book big screen treatment. Tintin was not amazing quality-wise, only modestly successful, and mostly faithful to the book; that seems like the best we can hope for.