$3,500 for a Melted Darth Vader Helmet? Official 'Star Wars' Props Go On Sale
You'll need to break the bank to become the biggest 'Star Wars' fan.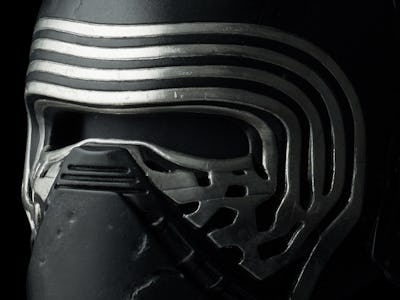 Disney / Lucasfilm
Are you a Star Wars fan who watched one of the movies and thought, "I need to own that lightsaber?" We're not talking some generic recreation or fan cosplay, we're talking about something that's as close to the real movie prop as possible? Well, if you're willing to pay thousands of dollars for something like the real thing, you're in luck.
Today, Disney and Lucasfilm — in partnership with the Propshop at Pinewood Studios — launched Star Wars Collectibles: Ultimate Studio Edition, a place to purchase 3D-printed made-to-order exact replicas of the props wielded by Star Wars characters.
If you want the best iterations of Kylo Ren's hilted lightsaber, Rey's staff, or even Poe's X-Wing fighter helmet, look no further.
"We're delighted to be able to produce such a groundbreaking line of merchandise," said James Enright, Assets Director and CEO of Pinewood's Prop Shop. "Designed, made and finished by the hands of specialist motion picture prop makers and artists, we've worked extremely hard to create something that we know would make fans and filmmakers proud."
"It's the first time that I've seen that the consumer can actually access props by the props company that worked on the film itself," says Jet Cooper, Digital Art Director for Prop Shop, in a video uploaded today to the official Star Wars YouTube account.
"We are continually looking for new ways to extend the storytelling from movies in innovative ways," said Josh Silverman, executive vice president of global licensing at Disney Consumer Products and Interactive Media in the same press release. "We've worked hand in hand with the filmmakers and talented team at Propshop to create a unique product experience for fans and we're excited to see their reactions to these incredible prop replicas."
The line of collectibles, initially available only in the United States, are created using high-res, 3D digital scans, and the unprecedented accuracy is spot-on since the Propshop has access to the original designs. The first line will be props from The Force Awakens, with objects from the rest of the saga inevitably coming soon. Some are being produced in limited numbers to insure their value, and with that level of precision and rarity comes a hefty price tag. Brace yourself and your bank account by getting some props today. Here are some of the highlights:
Darth Vader Helmet (Melted) - $3,500 and limited to 500 units
FN-2187 Stormtrooper Helmet - $1,750 and limited to 500 units
Rey Staff - $1,250
Kylo Ren Lightsaber Hilt - $1,250