'Star Wars VIII' Production Thanked West Cork, Ireland with This Advertisment
The ad ends with "May the force be with you," written in Gaelic.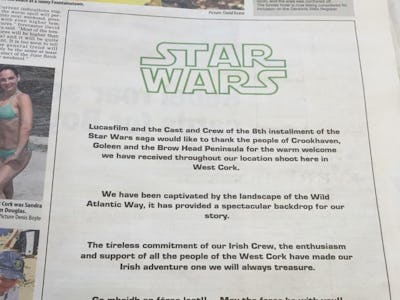 Ethan Miller/Getty
Production on Rian Johnson's Star Wars: Episode VIII recently wrapped in West Cork, a scenic tourist destination in southwest Ireland. The upcoming installment to Disney and Lucasfilm's "forever franchise" took an ad out of the local paper, the Evening Echo, to thank the people in Crookhaven, Goleen, and Brow Head Peninsula (all within County Cork) for the courteous "warm welcome" and its local film crew. Even in a galaxy far, far away, a "thank you" is still appreciated.
"Lucasfilm and the Cast and Crew of the 8th installment of the Star Wars saga would like to thank the people of Crookhaven, Goleen, and Brow Head Peninsula for the warm welcome we have received throughout our location shoot here in West Cork," the ad reads. "We have been captivated by the landscape of the Wild Atlantic Way, it has provided a spectacular backdrop for our story."
Since Evening Echo reporter Alan Healy shared a photo of the ad on Twitter Tuesday, it has made the rounds on Star Wars Twitter and reddit.
West Cork is a popular tourist destination, renowned for its sparsely populated areas unlike northern or eastern Ireland: it boasts natural beauty and post-card worthy towns and villages. It's just the sort of location where an aged Luke Skywalker might hang out.
The production also employed local crew, praising them for their "tireless commitment."
The ad ends, appropriately, with "May the force be with you," written in Gaelic.
Production on Star Wars: Episode VIII began with second-unit photography on Skellig Michael, an island in Ireland where the final scene between Rey (Daisy Ridley) and Luke (Mark Hamill) took place. In February 2016, Disney CEO Bob Iger confirmed principal filming had commenced with locations in Mexico, Pinewood Studios in England, Las Vegas, and Dubrovnik, Croatia.
Star Wars: Episode VIII opens December 15, 2017.