ASUS Sweeps Day Zero of Computex With New Tablets, Phones, Adorable Home Robot
The "first" day of Computex 2016 in Taipei kicked off with a keynote from ASUS -- here are the highlights.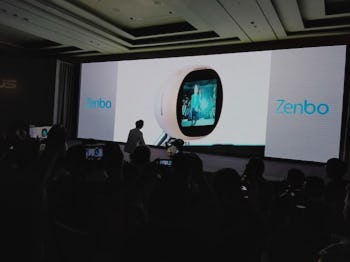 AnandTech
Welcome to Computex, an annual tech show that delivers everything your standard Google I/O or Apple conference doesn't. Tech manufacturer ASUS typically dominates the show, if not the earliest parts, thanks to their head-start with an exclusive conference one day before the show's official start. As ever, ASUS turned out the goods, several of which are expected to go toe-to-toe with big-name products from Apple and Microsoft.
But that's not where it stops. While the standard delivery of competitive 2-in-1 PCs, a sleek new ultraportable laptop, and a trio of phones, the company also seeks to deliver a cute new home robot named Zenbo, its own addition to the rat race of home assistants that Google seeks to lead with Home, and Amazon is struggling to hold with its Echo device.
The ZenFone 3 is ASUS' latest addition to its line of mobile devices. All three models run on Android M, but that's about where their similarities stop: The Zenfone 3 is sized with a 5.5-inch 1080p IPS display, and suited up with Snapdragon 625 clocked at 2GHz, a 3,000mAh batt, 3GB RAM and 32GB storage; the metal unibody Deluxe model features a 5.7-inch 1080p AMOLED screen, Snapdragon 820 and a 23-megapixel rear camera capable of 4K recording; and for the tech-obsessed friend who won't shut up about the shiniest new addition to their Arduino collection, the Ultra stands tall with a 6.8-inch 1080p LCD display, DTS Headphone:X 7.1 surround sound, a massive 4600mAh battery and an octacore Snapdragon 652. Phew.
By way of PCs, ASUS introduced its latest push against Apple's iconic MacBook, the ZenBook 3. The ultra skinny, lightweight portable made from a new "aerospace-grade aluminum alloy" that helped pull down the size and weight of the laptop. It sits at 2.2 lbs and features an Intel Core i7 processor, 16GB of RAM and a 1TB PCIe SSD. Accompanying the new PC is the Transformer 3 tablet line, which, make no mistake, looks a lot like Microsoft's Surface line. Three new tablets are featured in the line: the Transformer 3 Pro and Transformer 3 pack 12.6-inch displays with a 2880 x 1920 resolution, as well as USB Type-C and Thunderbolt 3 ports, while the smaller "Mini" has a 10.1-inch display, 8.2mm thickness and a built-in fingerprint reader.
The crowd favorite, though, was Zenbo: a home robot who can manage everyday tasks such as connecting and helping control the functions of a smart home, helping with shopping, and putting its own face to work by making video calls and streaming live videos from the screen on its head. If the model looks familiar, that's not much of a surprise. Currently, Dr. Cynthia Breazeal's crowdfunded JIBO is in the process of being made, and more models are up for pre-order at $749. There's also the adorable BUDDY, which was also crowdfunded last year and is currently being produced for a mass market by Blue Frog robotics, with a price tag that seems to change depending on demand. Needless to say, Zenbo's current $599 price tag and the retail power behind it puts it at the front of the market for now.
Computex continues this week, with expected presentations from NVIDIA, Intel, AMD, and more.