Mark Zuckerberg Talks to Astronauts About Mars and VR on Facebook Live
"Connecting folks who are out in space is about as extreme and cool as it gets."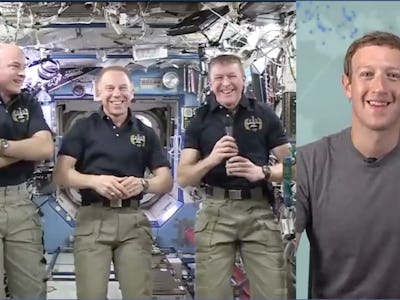 Facebook
Facebook's mission statement claims its goal is to "make the world more open and connected," and founder Mark Zuckerberg seemed ecstatic today to know those efforts culminated in the first ever Facebook Live event — conducted from space.
"When you're building products to try and connect the world, connecting folks who are out in space is about as extreme and cool as it gets," Zuckerberg said in the live conversation with astronauts Timothy Kopra, Tim Peake, and Jeff Williams, stationed on the International Space Station.
One of the most interesting topics from the conversation stemmed from the astronauts' increased use of virtual reality. Peake said the VR and Augmented Reality technology already serves a big role in space station operations including 3D mapping of space, using the headsets to view procedures, and allowing mission control to send more precise instructions. In December, Microsoft sent a Hololens to the ISS.
"That has a large potential for future operations on board and it's quite exciting," Peake said of VR during the intragalactic Facebook Live video. There's no telling if Zuckerberg will arrange to have an Oculus Rift sent to the ISS.
There was a slight delay between the two parties and at times users in the comments complained about buffering times and cut signals, especially around the six-minute mark when there was a stutter in the signal that seemed to kick many out. Aside from that one glitch, the signal was strong and anyone who was kicked off could watch the video in full after it ended.
The astronauts also discussed the blandness of the food in space, speaking Russian with their fellow Russian Cosmonauts, and never getting tired of viewing Earth from space. The crew even did a flip in zero gravity for the audience.
By Wednesday afternoon, the video had been watched 2.5 million times views and attracted audiences all around the world. In comparison, Candace Payne made the most viewed Facebook Live video yet earlier this month with the viral Star Wars Chewbacca mask live event racking up more than 153 million views. Before that, BuzzFeed set the record with 10 million views for its video testing how many rubber bands it takes to explode a watermelon.
Zuckerberg also shared the below graphic on his Facebook page of just how it connected with the ISS, writing: "In case you're wondering, you can't just dial up the International Space Station to go live. Here's how we connected the first Facebook Live from space — through satellites, mission control in Houston, and lots and lots of redundancy!"