Mark Zuckerberg Will Chat With ISS Astronauts on Facebook Live Video
It will be the first out of this world broadcast on the platform.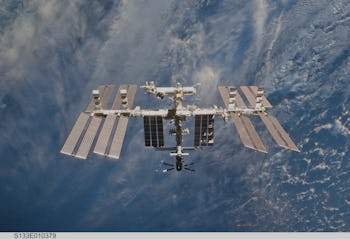 NASA
Mark Zuckerberg, in his quest to test the limits of Facebook Live, will chat with astronauts aboard the International Space Station through the platform and field questions from Facebook onlookers interacting with the stream.
Astronauts from the station have more and more frequently streamed themselves aboard the space station for viewing audiences back on Earth, from news programs to late night talk shows. Facebook Live brings the astronauts to a pretty wide international audience, i.e. the social network's 1.65 billion users.
In fact, users in India are already commenting on the event announcement page, asking for the start time in their country.
Zuckerberg gave a pretty buggy Facebook Live debut earlier this year, one that featured some abrupt starts and stops. He also demoed Oculus Rift live on the day of its official ship date. Each time he gets a little better and more personal, so this time around he should be well practiced.
The Facebook founder and CEO will likely speak with Jeff Williams, who, upon completion of his mission in September, will surpass Scott Kelly's record for most days spent in space. Other members aboard the station currently include Russian cosmonauts, Alexey Ovchinin, and Oleg Skripochka as well as three other scientists from Expedition 47: Commander Tim Kopra of NASA, and flight engineers Tim Peake and Yuri Malenchenko of the European Space Agency and the Russian space agency Roscosmos, respectively.
The broadcast will go out live on NASA's Facebook page starting at 12:55 p.m. ET on Wednesday, June 1.