'Maze Runner' Rosa Salazar Cast as Lead in 'Battle Angel,' the 'Gunnm' Film Adaptation
Will Salazar make a satisfying Alita?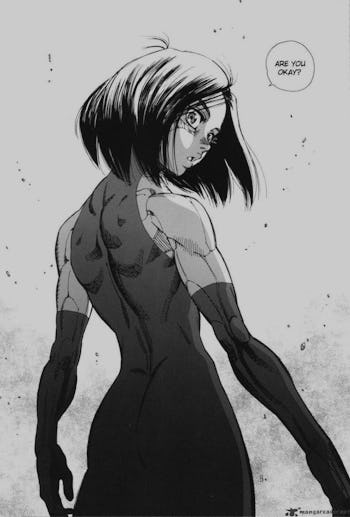 James Cameron secured the rights to adapt the popular Japanese manga series Gunnm (translation "gun dream") years ago, but his involvement in the huge — and growing — Avatar franchise held the project in production limbo indefinitely. Last year, Cameron ceded his directorial duties on the Gunnm adaptation, tentatively titled Battle Angel to Robert Rodriguez, who directed Sin City. All fell quiet on the Alita front until this week, when it was announced that Rosa Salazar, who played a minor character in The Scorch Trials, had beat out the likes of Zendaya and It Follows star Maika Monroe for the lead role in Battle Angel.
Will Salazar make a satisfying Alita? We don't have much to go on, but it's easy for fans to trust Cameron's now well-developed sense for female leads. After all, he was responsible for directing two actresses in two of the most groundbreaking performances in contemporary sci-fi: Sigourney Weaver as Alien's Ellen Ripley, and Linda Hamilton as Sarah Connor in T2: Judgement Day.
If Salazar's performance proves memorable, she could secure herself in the science fiction canon as an influential leading lady.
Who is Alita?
The protagonist in Yukito Kishiro's manga is a bit of an empty shell when the series picks up; she can't remember who she is, or who built her, and she's plucked from the garbage with the mysterious ability to practice Panzer Kunst (in German, panzerkunst), a martial art.
She's a malcontent, referred to in Japanese as "octopus lips" because she always has a sour expression, and she's a gifted bounty hunter and athlete.
Who is Rosa Salazar?
Sci fi blockbuster fans might recognize Salazar from films like The Maze Runner or Insurgent, but she's also got a pretty sizable history working in alt-comedy. She's appeared in Man Seeking Woman, as a character on Tim and Eric's Bedtime Stories, and got her start acting in College Humor sketches.
We've watched her steal scenes as Brenda in The Scorch Trials, in which she was supposed to be believably attractive (enough so to distract the film's lead temporarily) and weathered by loss and her difficult adolescence spent in "The Scorch."
Salazar's interesting combination of skills — dry comedic timing, strength in physicality, and her distinctive, large eyes and vocal-fry tinged monotone — will make her a multi-faceted and interesting Gally in the eventual Battle Angel film. She'll probably go by Alita, though, as Cameron and Rodriguez will lean, as Westernized audiences have, on the English-dubbed version of both the anime and translated manga.
With additional reporting by Sean Hutchinson.