Is Neil deGrasse Tyson a Prisoner of His Own Celebrity?
What we expect from him, in a word, is weird.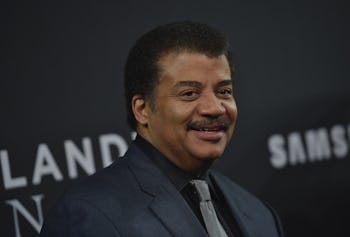 Dimitrios Kambouris
On Thursday morning, the American Museum of Natural History hosted a press conference to announce Regeneron Pharmaceuticals as the new title sponsor of the Science Talent Search, a science-based student competition operated by the Society for Science & the Public since 1942. The company will take over sponsorship for the competition from chipmaker Intel and pour $100 million over the next 10 years into the completion.
Among the invited speakers were the CEO for SSP and both of Regeneron's cofounders, all natural choices.
And then there was Neil deGrasse Tyson, the director of the Hayden Planetarium, who had never been a part of STS as a student or professional. But he is the country's most famous living scientist. He's the guy talk show hosts invite to talk about how amazing science and space are. He's the guy who succeeded Carl Sagan as the face of science communication in today's world. He is the guy who traverses worlds and dispatches diss tracks to terrible rapper B.o.B.
So if Tyson doesn't really have an affiliation to STS, why was he here? The answer is simple: when you want to drum up attention about something science-related and you hope to get a room full of reporters to come by and write about it, you call NdGT. A few minutes before the press conference, the man in the tie decorated with galaxies was strolling up and down the grand main hall of the Rose Center for Earth and Space, schmoozing with attendees and shaking hands left and right.
When the conference began, however, one couldn't help but feel sorry for him. When his fellow speakers took the podium, Tyson just seemed bored. He stared off into the audience and looked around like he was zoning off carelessly. The spectacle seemed disconnected from his own thoughts.
It seemed as if he was simply a prisoner of his celebrity — forced to be there to fulfill his role as the face of astrophysics at the museum.
When Tyson did take the podium, he shook off any lingering lethargy. With a quickness, he can get animated — his arms sway, his voice booms, and the jokes tumble out. Despite having never taken part in STS, he described his time at the Bronx High School of Science as having exposed him to "an atmosphere of discovery," and the casual talk between students peppered with inquiries like "what did you discover today?"
Yet, it still felt as if he was a square peg, fulfilling a role that didn't make perfect sense — except that he's a popular dude. At some point, Tyson used the metaphor of the doldrums (a region close the equator where winds travel not horizontally but vertically, or not at all — thereby trapping ships out at sea for long periods) to describe the state of science in the country.
"The nation is in a kind of science doldrum," he said, expressing hopes STS would reinvigorate a passion for discovery.
As America's stand-in face of science, of course Tyson's words sounded better than the other three speakers. But his undeniable success was not a direct effect of STS. It might have made more sense to bring in a prominent STS alumnae like theoretical physicist Lisa Randall (of dark matter and dinosaur fame) or maybe another alumnus — freakin' Ray Kurzweil. They might be better at demonstrating why STS is so important. It would be hard to argue that any student who wants to be the next Neil deGrasse Tyson would be best served by actually entering the Student Talent Search.
Tyson's own task for that day was already finished before the press conference began. His name was an instant signal that filled the room up with media personnel. Just as quickly at the conference's conclusion, he was shuttered away for more backroom interviews, something that seems completely foreign to the premise and purpose of STS.