Apple Eyes a Wifi-Powered Walkie Talkie With New Patent Application
A wifi or Bluetooth-powered headset may be Apple's next communication product.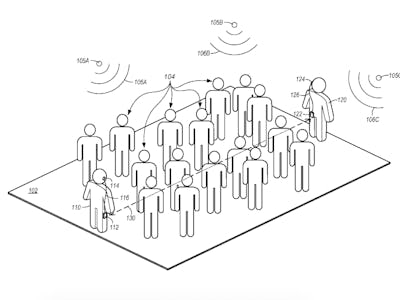 Apple's most recent patent application for a digital peer-to-peer headset resurrects the idea of walkie talkies for the modern age.
Facilitating local voice communication without the aid of a cellular network, an application would display all other users available to connect with over Bluetooth or wifi. Then, whether you're meeting up with a friend in a crowded train station or trying to connect with an old friend at a professional conference, just tap their ID on the app and voila, the two of you are able to find and communicate with each other without relying on spotty cell service.
A little more prosaic than many Apple patents, which tend to have a way of broadcasting the company's ambitious, if vague, goals for the future, the walkie talkie idea has its merits: Local networks like Bluetooth and wifi tend to have diminished lag when compared to cellular communications, suggesting that it could come in handy in a range of situations. While the current Apple patent has people using headphones to connect over these networks, it is easy to imagine dozens of people accepting a single voice input and using their phones to amplify a speech or announcement in real time.
Walkie-talkies remain in fairly widespread use, and much of that comes from businesses that need a way to connect their employees. Direct headset-to-headset networks based on a company WiFi system could improve how employees communicate with managers or other staff. Instead of a single channel that everyone uses, the headsets, paired with an app, might easily permit direct communication.
Though walkie talkies may not sound like a great business opportunity for Apple, the patent does describe a fairly advanced headset to make these kinds of communications possible. That kind of hardware is exactly what has made Apple such a giant, and with this new patent, it just became significantly harder for competitors to breach any possible market.
Like always, it may never see the light of day, but it does give us an idea that Apple is still interested in developing hardware that branches out from the rest of the industry. It's not just iCars, iGlasses, and iVR Goggles in our future, we may just get an iWalkie Talkie as well.