Man Who Posed as Tennessee Football Player on Snapchat Is Charged With Extortion
Don't trust people on the internet.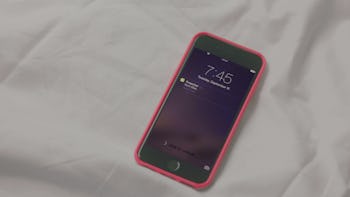 Snapchat
Gone are the days when extortion required baseball bats and backing from the mob. Brandon Shanahan, 22, was arrested and charged on Tuesday with intent to extort money and other valuables from a woman over Snapchat.
According to a press release from the Department of Justice, Shanahan catfished, and then extorted, the female victim by posing as University of Tennessee football player Cameron Sutton. He pled not guilty of intent to extort today at the District Court in Knoxville. If found guilty, he faces up to two years in prison.
Shanahan allegedly used the Snapchat name "Camsutton2323" (23 is Sutton's jersey number) and threatened to injure the victim's reputation.
According to the press release, Sutton is a victim of criminal impersonation. Law enforcement found that Sutton had never contacted the female victim before and didn't know Shanahan was posing as him.
The case is another example of how you can't always trust anonymous people hiding behind questionable internet usernames.
Snapchat, in particular, is becoming an increasingly popular vehicle for extortion. In April of last year, a 16-year-old from Connecticut was charged with catfishing around 20 people by pretending to be a young girl asking for nude photos and iTunes gift cards. The person solicited teen boys to send photos and then threatened to leak them if the victims didn't pay.
In that case, the teen was charged with three counts of first-degree larceny by extortion, 16 counts of criminal attempt at first-degree larceny by extortion, five counts of third-degree possession of child pornography, and 10 counts of promoting a minor in an obscene performance.
As for the Tennessee Snapchat extortion case, information on whether Shanahan solicited and received nude pictures from the female victim through the app was not included in the Justice Department's release.
Shanahan pleaded not guilty today and was released on bond. The FBI Cyber Crimes Task Force is still investigating and urges anyone who believes to have been a victim of extortion by Snapchat user "Camsutton2323" to contact the office at 865-744-0751.
Inverse contacted the District Court for further details in the criminal complaint and affidavit but was informed the documents weren't in the public database.