Why We Want A New Jay Z Album
Jay Z's 'All The Way Up' guest  verse feeds our thirst for a new album.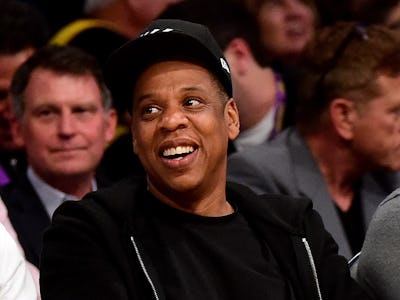 Harry How/Getty Images
One minute, an album by Jay Z sounds enticing, and then the next you think back to his 2013 Magna Carta album — which was disappointing, more lyrically than sonically — and the bubble deflates.
When Fat Joe and Remy Ma premiered the Jay Z-assisted remix to their hit, "All They Way Up," the thought makes one dream of an album in which Jay Z has something to say – so much to say that he wont mimic flows of other rappers or play too long off the latest trend but, instead, spit wordplay about his past and present life.
"You know you made it when the fact/ Your marriage made it is worth millions/ Lemonade is a popular drink and it still is," he raps, acknowledging Beyoncé's album, Lemonade, which insinuates infidelity in their marriage. (The lyric is a flip of Guru's line on Gang Starr's 1992 album DWYCK; "Lemonade was a popular drink and it still is/ I get more props and stunts than Bruce Willis").
His featured verse on the "All The Way Up" remix feeds to our wavering thirst for another Jay Z album, because we know he has it in him: to continue to live up to his own legacy. He's one of the elite few hip-hop artists who's given fans a way of living, through his music and lifestyle. Some have remodeled their lives based on Jay Z, to a point that a story, whether not fleshed out thoroughly, is still more appreciated than nothing at all.
But, it's a must to mention that Lemonade made many want an album from Jay Z even more, seeing that there was another side to a story to be told. On Lemonade, Beyoncé recounts betrayal and forgiveness. A woman scorned but with faith in her marriage strong enough still to make one fight—fight herself and fight her lover, presumably Jay Z, for love. "All The Way Up" is a taste to the truth, to a story, that Jay Z could unleash on an upcoming body of work. As we've seen with Lemonade, a story that's true to the artist as it is to the listener, will be cherished.