'Game of Thrones' Showrunners Apologize for Hodor, but it's Not What You Think
David Benioff and D.B. Weiss made a rare appearance on Jimmy Kimmel to apologize for Hodor. Sort of.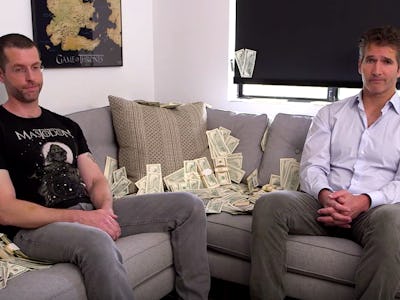 Youtube/Jimmy Kimmel Live 
Game of Thrones showrunners David Benioff and D.B. Weiss are as slippery as Petyr Baelish: After Season 5, they evaded the "is Jon Snow dead?" question by skipping Comic Con for the first time, and they rarely comment on the various internet controversies their show sparks.
But, evidently, after "The Door" and that Hodor reveal, they finally felt the need to speak. In a recorded segment for Jimmy Kimmel Live that aired on Tuesday, they offered a heartfelt apology for "The Door," while sitting on a pile of money.
"We'd like to apologize for Sunday's episode," they say. "Not for killing Hodor…we're sorry for all the idiots who, from now on, will be shouting Hodor! every time you go through a door."
Even so, D.B. Weiss offered no apology for the cultural mash-up of his Mastodon shirt and Game of Thrones, nor did they offer any comments about their show's recent anti-direwolf policy — though we'll chose to believe that was David Benioff's idea and the clip's ending is therefore revenge for the direwolves.