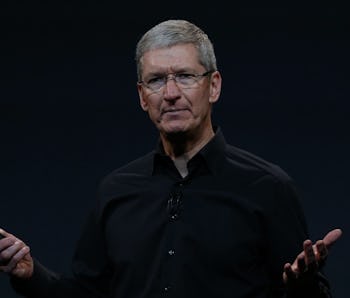 Innovation
The "Echo Killer": Apple May Be Opening Up Siri's Software to Developers
Reports say that Apple intends to open up Siri's software to developers, broadening the horizon for its home assistant technology.
 Justin Sullivan/Getty Images
Apple may be considering opening up Siri to other developers. In a new report by The Information, sources with a "direct knowledge of the effort" told the outlet that Apple may be looking to compete with Amazon's home device, the Echo, and its Alexa A.I. software. The news comes just a week after Google announced Home, its own answer to the Echo, showing that Apple may be interested in occupying yet another competitive tech market.
The move might be highly advantageous to Apple: with nearly no one else working on Siri's development, Apple has found itself trailing behind other tech giants in the voice-controlled home device market. Siri's limits have become pronounced in that nature, with the software's use limited to Apple apps and features on iPhone and iPad devices. Microsoft is also throwing its hat in the game with further development on Cortana that ambitiously seeks to make the software accessible from any device.
The possibilities of open-source software on Siri can range from small alterations like the a change in voice (for the record, KITT from Knight Rider should be the only voice you need) to more advanced improvements, like specialized apps for children or users with more specific needs.
The report says that Apple's physical entry into the game will take the form of another speaker, "that people can use to turn on music, get news headlines or set a timer." Apple's previous similar release, HomeKit, functions as a minimal smart home ecosystem — despite that, it seems as though the company might go another route with a completely new device, which will be separate from Apple TV.
As ever, rumors like these should be taken with a grain of salt. The Information has a great track record with leaks like these, but at the very least, speculation on Apple's big move into this industry is worth some time and consideration.