The New 'Finding Dory' Trailer Has Surfaced
Seems Dory has been lost for a long time in the newest trailer for the ocean-based sequel to 'Finding Nemo.'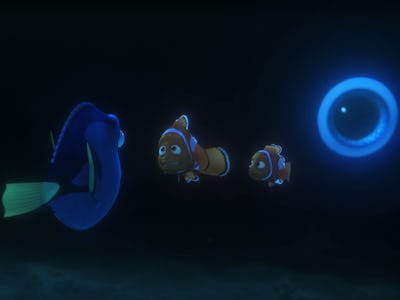 YouTube.com/TheEllenShow
When Dory bumped into a clownfish (voiced by Albert Brooks) in 2004's Finding Nemo, moviegoers were unprepared for the blue bundle of joy who would become their favorite character. Twelve years later, Ellen DeGeneres's Dory gets her own sequel in Finding Dory, which follows the forgetful fish on a journey to find her family. A new trailer has surfaced on DeGeneres's YouTube channel, with more of the film's plot revealed and new, quirky characters await in the depths.
A continuation of Finding Nemo, Dory, at long last, remembers a glimpse of her family and hastily traverses the vast oceans to find them. Accompanied by Marlin (Albert Brooks) and Nemo (now voiced by Hayden Rolence), Dory arrives at a marine life institute where she meets new friends who will aid her in the quest. They include a white beluga whale Bailey (voiced by Ty Burrell), a whale shark named Destiny (Kaitlin Olson), and an octopus named Hank (Ed O'Neil), who becomes her guide. There are also two sea lions voiced by The Wire alums Dominic West and Idris Elba.
The sequel is helmed by Andrew Stanton, the Oscar-winning animation director behind the original Finding Nemo WALL-E, A Bug's Life, and co-wrote all three Toy Story movies and 2001's Monsters, Inc. He also directed the live-action John Carter.
Finding Dory arrives in theaters June 17.