Pepper the Robot May Soon Serve You at Pizza Hut 
Pepper is an unusually pleasant robot that will order you pizza.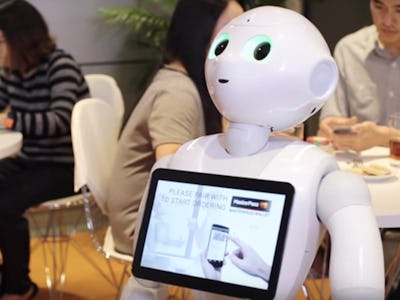 It may be easy to order fast food from a kiosk: You don't have to speak with a server and the entire menu is at your fingertips. But MasterCard and SoftBank's Robotics are betting that eventually you'll miss having friendly interactions. Enter Pepper, a robot that takes orders and, of course, MasterCard.
Some restaurants have already experimented with robotic servers, but Pepper learns from these past attempts by sticking to simply taking orders and accepting payments. In the past, robotic servers have stumbled when required to deliver meals, particularly soup in Hong Kong, leading to robot firings. Pepper is primarily a humanoid bot with a complex A.I. that can answer questions about the menu and process orders.
In a demonstration video at the "MasterCard Cafe," a customer connects to Pepper using the MasterCard app on her smartphone, instantly linking her personal and payment information to the robotic system. Then, she orders a meal, accepting the final payment with a single word, "Approved."
It's a pretty seamless system that will encounter its first real-world tests when it debuts at Pizza Hut restaurants in Asia.
"Consumers have come to expect personalized service, customized offers and simple and seamless processes both in-store and online," says Tobias Puehse, vice president, innovation management, Digital Payments & Labs at MasterCard. "The app's goal is to provide consumers with more memorable and personalized shopping experience beyond today's self-serve machines and kiosks, by combining Pepper's intelligence with a secure digital payment experience via MasterPass."
The customer is able to request food prices and even health information from the robot, which will read back a certain item's total calories and fat. Pepper is an unusually pleasant robot with a particularly sophisticated ability to use hand gestures like a real human, but the payment system may eventually prove the most innovative piece of the entire puzzle. It's not clear whether companies or consumers will care so much if they speak with a robot or tap on a kiosk, but never having to swipe a card sounds pretty nice.
Pepper may be memorable, but quick service is the future.