Why MP3s Still Matter
Apple has said they'll get out of the MP3 game in the coming years. Here's why that's a bad idea.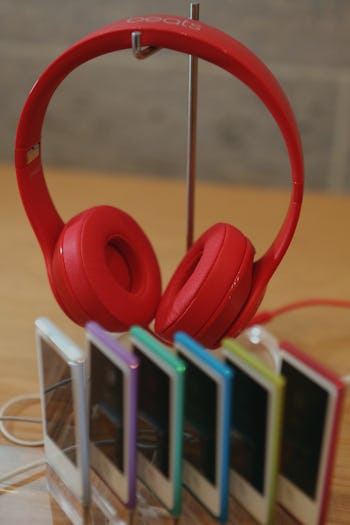 Adam Berry/Getty Images for Apple
When reports surfaced that the Apple was planning to eliminate MP3 downloads from its huge iTunes Store, people started freaking out. Understandably so — downloads are not simply useful, but still very much enjoyed. Take for instance Drake's recent album release, Views. The album debuted at No. 1 on the Billboard 200 chart selling 1.04 million equivalent album units its first week, of which only 852,000 copies were traditional album sales.
Apple is allegedly doing away with MP3s and solely focusing on streaming. Sources tell Digital Music that it'll happen no matter the timeline because "keeping [iTunes music downloads] running forever isn't on the table anymore." According to music industry analyst Mark Milligan, the downside of iTunes is its decline in sales. "Last year downloads declined by 16% in nominal terms. This year they are tracking to decline by between 25% and 30%," he said.
And while streaming is climbing toward its peak — Chance the Rapper just made history by debuting on the Billboard 200 chart with a streaming-only album, Coloring Book — there's still room for MP3s. Apple's Music store remains the biggest marketplace for music: While revenues have decreased since 2012 ($3.9 billion), Milligan says iTunes will still be worth around $600 million in 2019. According to Silicon Beat, "Last year, the Recording Industry Association of America reported that downloaded music made up $2.33 billion in U.S. digital sales, while streaming music revenue reached $2.41 billion." MP3s are still bringing in a big chunk of revenue.
I don't think music downloads are only valuable because of circumstance – as in having it readily available during transportation – there's value in having a service available to those who've made a way of living around it and still see it as so. Music nerds, such as myself, take pride in having an iTunes catalog appealing and organized to one's many interests – by having a stash of deep cuts, leaked demos, and full-length albums by various artists stored. The majority of streaming services offer music solely offered directly by the artist or approved by the artist. The fear expressed about Apple doing away with MP3s came from those having nightmares that their current catalog would disappear along with the iTunes platform.
Artist James Pinkstone posted a blog post early May claiming "122 GB of music files" was deleted from his internal hard drive. "Through the Apple Music subscription, which I had, Apple now deletes files from its users computers," he says. When I signed up for Apple Music, iTunes evaluated my massive collection of Mp3s and WAV files, scanned Apple's database for what it considered matches, then removed the original files from my internal hard drive. REMOVED them. Deleted." When Apple recovered Pinkstone's lost files, some of them were replaced by "more widely available" versions.
Options are key. Having the option to consume music as we wish matters, much like we've also seen with vinyl. Sales of vinyl and physical copies decreased when downloads were introduced, but they weren't completely done away with, perhaps now present for nostalgia or for those loyal to music. Bandcamp is a good example of leaving music consumption in the hands of the consumer, whether it be streaming or download. You choose the format by which you listen and consume music. If a person prefers to purchase an artist's work, it's an option. If one simply wants to stream, that's also an option. If you're paying, Bandcamp lets you have the media however you want it.
Apple's motivations are driven by the market, not the listener. Business is business, but the company shouldn't ignore their roots — or their listeners.