Lyft Announces Plan to Offer Scheduled Pick-Ups
The feature makes its debut in San Francisco.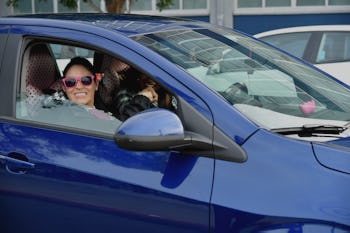 Mike Coppola/Getty 
Lyft took a step out of Uber's all-encompassing shadow today with a feature many have longed for: The ability to schedule a pick-up.
Both companies have stayed the course as on-demand rideshare providers in the past, each explaining in their FAQ's that there's simply no need for reservations. Yet for people with early morning flights or who need to know there's a guaranteed ride waiting for them at a specific time, scheduled pick-ups offer the sort peace of mind that on-demand rides may not.
Since its inception, Lyft has been trying to close the gap with Uber, matching discounts in the same cities as Uber and debuting features similar to Uber. For scheduled rides, however, Lyft is a step ahead of the ride-share giant. The feature sets it apart from Uber and could prove to be a draw for new customers.
To schedule, users simply need to select a pickup location, hit the clock icon, and scroll to the desired time. Rides can be canceled up to 30 minutes before if anything changes.
The feature will be rolled out as a beta version soon in San Francisco. It's still in the initial testing days, and there isn't a timeline of when it will become available in other cities. Lyft says it looks "forward to making the feature available to more passengers this summer."