'Jessica Jones' Boss Confident That Krysten Ritter Will Stay On Track In 'The Defenders'
Melissa Rosenberg's not concerned about handing over Jessica to 'The Defenders' team because of Krysten Ritter's commitment to her character.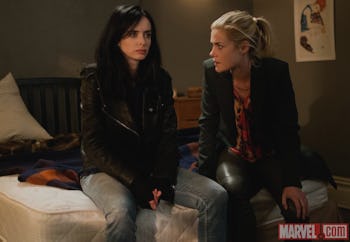 Marvel / Netflix
This weekend, Krysten Ritter and Marvel's Jessica Jones showrunner Melissa Rosenberg stopped by the Vulture Festival to talk about the series, Season 2, and Jones's different brand of hero aesthetic. They also discussed how they'd hand the character over to The Defenders producers.
Rosenberg spoke of Jones's individuality in the Marvel Cinematic Universe and how her character is a pretty radical departure from the other masked heroes "trying to make this city a better place." Though those heroes are teaming up in The Defenders, Entertainment Weekly reports that Rosenberg isn't too concerned about turning over the Jessica Jones reins to a new team for the upcoming series. The reason? She's confident that Ritter will make sure that Jessica doesn't deviate from the character that she, Rosenberg and the rest of the Jones team worked so hard to establish during the first season.
"She will not do anything that will violate her character," said Rosenberg, "and I pity the guy who tries to make her."
When placed alongside the likes of Daredevil or Iron Fist, it's clear that Jessica Jones is a different breed of hero. She's not spandex-clad and she doesn't wax poetic about the greater good. Her goal in season one was singular: stopping Kilgrave. She wasn't trying to expose corruption or make her small part of the city more decent. She knew that likely the single greatest threat to her and those she cared about (along with everyone else in the city) needed to be taken out and that no one else was equipped to do it, so she stepped up. Heroic? Yes. Classically superheroic? Not so much.
The way in which Jones and the other heroes in The Defenders will interact is going to be a key element of the new series. Will we see Jessica Jones rolling her eyes at Daredevil's occasionally exhausting earnestness? What will we see from Luke Cage's reunion with Jessica? What kind of threat will they have to team up to tackle?
We dont know yet, but we can be bet on the fact that the Jessica Jones we see in the new series will be the same unapologetic leather-wearing, whiskey-chugging reluctant hero we met in Joness first season, and that we'll see her return for a second season sometime after The Defenders.