Montana of 300: Chicago's Secret Weapon is Beating Your Favorite Rapper's Viewcount
From his freestyles to his new album 'Fire in the Church,' the rapper is quietly building a millions-strong following.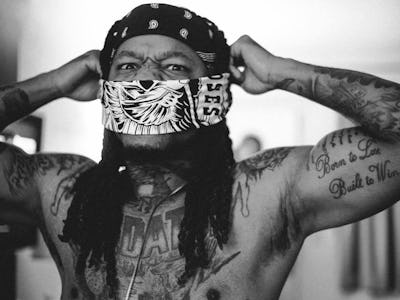 Having to rewind a track to parse out lyrics that flew by too fast is not something that happens with Chicago rap coming out of the "drill" lineage. Yet you may catch yourself doing this with a new record from Montana of 300, Chicago's most popular and best-kept secret, whose anticipated new independent album, Fire in the Church was released on Friday.
South Side-native Montana has been working at his craft for 10 years, six years before the breakthrough of "drill"'s hard-nosed, trap music-influenced sound. In many ways, what he does owes a lot to the music which came before Chief Keef and the artists who broke the door in for the Chicago scene at that time, though he capitalized off drill's success. Montana has earned up to tens of thousands of views on freestyles over other people's songs, which recalls the free-mixtape methodology of last decade, when Lil Wayne and DJ Drama defined the format. A January "White Iverson/Milly Rock" remix boasts 7 million, one of many that is creeping up to the record set by his 2014 take on Dej Loaf's "Try Me," which hangs at 17 million+. Trap Queen" and "Coco" takes are at 9; a "Panda" take has garnered over 2 million hits in 2 weeks.
Like Wayne's, Montana's projects are full of ear-catching, sometimes wonderfully ludicrous similes, with more poignant testimonies to life in his city, which recall his young Chicago contemporaries, like Lil Durk and G Herbo (formerly Lil Herb). He is constantly churning out both YouTube freestyles and original songs toward his mix tapes/albums. Unlike your favorite trapper, he includes "cyphers" on his albums, and brags about his lyrical prowess as much as his street credentials.
His new third album Fire in the Church is a daunting 75-minute, 18-song collection, with many tracks working off the same basic, heavy trap beats and impossible-to-shake, high, starkly melodic choruses. Where the Futures and Young Thugs of the world often let their Autotune create near-psychedelic ripples, and pay no mind to maintaining intelligibility, Montana's are plaintive and crystal clear. Almost-too-obvious but unforgettable ways of talking about things every drill song has talked about for years are carried off in jaw-dropping ways ("I be in her mouth like false teeth," "Pull up like a sleeve," "lost lots of green like Piccolo," etc.). Elsewhere, there are references to The Revenant and "lighting shit up" like "Thomas Edison."
In the midst of the wackier turns of phrase are embedding plenty of heartfelt evocations of gang life that, in delivery, recall 2Pac's authoritative voice as much as anyones ("Try not to slip cause the prison system got places for you/ Don't get the picture, my nigga? Here, let me paint it for you/ The same niggas that say they love and claim they loyal/ Ain't gonna pay no lawyers or let alone raise your babies for you).
It's the hooks, the fierce and unrelenting energy, the fact that this guy has such a wide following without a Wikipedia page that make Montana of 300 such a fascinating figure. Like, what's the context here?
Fire in the Church runs the full gamut of human emotions across a surprisingly musically consistent group of songs. Fans of street rap, old-school Weezy whimsy, and Kevin Gates' (featured on the album) trunk-rattling angst should look no further this month than this release.
Fire in the Church is for sale on iTunes and available on your favorite streaming service and Soundcloud.