Ariana Grande's 'Dangerous Woman' Has a Ton of Bangers
The pop star wants you to know that she's ALL GROWN UP on her third album.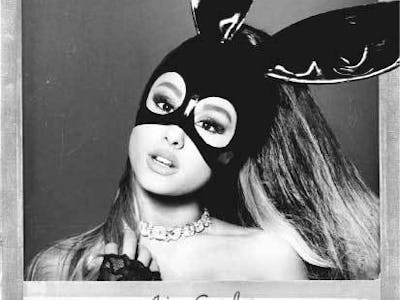 Ariana Grande official website
We finally know who Ariana Grande is. On the singer's debut album Yours Truly and following the release of My Everything, the petite Grande showed off her tremendous, 90's R&B-referencing vocals, which immediately earned comparisons to Mariah Carey and other iconic powerhouses. But a seemingly nondescript personality undermined Grande's appeal on her first two albums: besides a high pony and gigantic vocals, who is Ariana Grande?
Since the release of My Everything in 2014, whether by way of an infamous donut-licking incident or a surprisingly on-point performance on SNL, Grande has moved the person behind the huge voice to the forefront of her pop star appeal. For the past few months, Grande has released singles from her third full length album Dangerous Woman, which have served as further proof of a pop star with a rejuvenated persona. The official release of Dangerous Woman is the culmination of her efforts to color in the picture.
"Dangerous Woman"
The album's title track was the first single Grande released in the Dangerous Woman rollout, but it's still the best example of the robust personality she flaunts on the new record. Even if this chart-topping track has made its rounds on the radio, the proper album release recharges Grande's untouchable confidence in this sultry anthem and paves the way for the rest of bangers. Before Grande began releasing singles from this record, her former career as a Nickelodeon star, paired with her impossibly small size and doe-eyed aesthetic, earned her an innocent reputation. The sexy self-assured attitude of "Dangerous Woman," propped up by impeccable vocal riffing, squealing guitar licks, and assertive lyrics, explodes that idea into little pieces.
"Into You"
The fourth track on Dangerous Woman was also released during the album pre-release cycle, but it would be absurd to leave it out of this list as it's definitely one of the clear highlights. "Into You" is probably the most danceable track on the album, starting out in a subdued pulse that gradually builds into a crunchy bass explosion by the time the chorus comes around. "A little less conversation and a little more touch my body," Grande belts over a barrage of club-ready bass. Yes, former child-stars with petite body frames are sexual beings too.
"Greedy"
The funk-inspired "Greedy" is another undeniably fun Dangerous Woman joint. Backed by a hyper horn section and a bright disco beat, Grande's predatory attitude positions her sexuality front and center again. "I ain't talkin' money I'm just physically obsessed," she sings in the chorus, aptly getting at the blinding greed that comes with being incredibly horny for someone. When a singer has as much vocal talent as Grande, superior vocal performances can be expected on every track of an album, but the key-change toward the end of "Greedy" kicks it up an extra notch and carries the song home.
"Side to Side" (feat. Nicki Minaj)
As far as the sonic appeal of Dangerous Woman goes, the pop reggae of "Side to Side" is definitely the most obvious outlier. But as a song about how Grande walks kinda funny after mind-blowing sex, "Side to Side" coincides with the sexual emphasis of the rest of the album. It marks the first joint effort between Grande and Minaj since "Bang Bang," and the two make the most of their collaboration, especially Minaj's rhyming of "dick bicycle" and "If you want a menage, I got a tricycle." The appeal of this track largely hinges on Minaj's verse, but it's totally worth it to see Grande step aside for a second and hand the mic to another unapologetically sexual woman.
"Bad Decisions"
Dangerous Woman's defining quality is its display of how much Grande has grown up, particularly in the sheer amount of sexually explicit songs. "Bad Decisions" strikes me as Grande's official send off to the wholesome young girl reputation, even if that was never an accurate portrayal of her. "Don't you know I ain't fuckin' with them good boys," she croons in the song's bridge, before it explodes back into the chorus, which finds Grande embracing everything about an energizing love, even the bad decisions she's made along the way.
"Leave Me Lonely" (feat Macy Gray)
While the majority of Dangerous Woman stakes its claim in confidence and sexual magnetism, there are a few vulnerable moments that add tot he album's sincerity. And who better to recruit for that than Macy Gray, the singer who famously chokes when she tries to say goodbye, stumbles when she tries to walk away? Gray's smoky, anguished vocals launch the song into the vulnerable territory it needs to be in for Grande to take over as she ruminates on the pain that love can cause. The rawness of emotion on "Leave Me Lonely" also gives way to one of Grande's most commanding vocal performances on Dangerous Woman.
"Everyday" (feat. Future)
The Future-featuring, trap-leaning "Everyday" quickly reverses the brief moment of emotional exposure of the previous track "Leave Me Lonely" and gets the album back on its self-assured trajectory. It's an unexpected collaboration, nevertheless an excellent one. Grande's crystalline vocal performance and Future's distinctly sloppy groaning scrape against each other, but the result is surprisingly harmonious. If you consider the almost depraved reputation that Future has carved out for himself in the rap world, Grande's partnering with him shows off Dangerous Woman's dangerous side in an additional way.